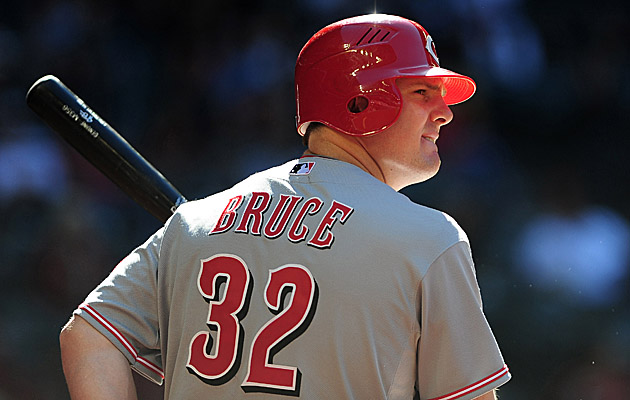 By Matt Snyder
May mostly belonged to the pitcher. Sure, there were some pretty stellar performances by hitters (including our selection,
Jay Bruce
), but the month belonged to dominant pitching as a whole.
May's Best
Expert
Batter
Pitcher
Knobler
Bruce
Verlander
Miller
Bruce
Verlander
Brunell
Joyce
Kershaw
Rosecrans
Bruce
Putz
Snyder
Bruce
Sanchez
Fantasy
Bruce
Sanchez
Just look at some of the names we had to choose from when it came to strong pitching performances in May.
The following pitchers threw at least 20 innings and had an ERA below 2.00:
Josh Beckett
,
Erik Bedard
,
Jeremy Hellickson
,
Josh Collmenter
,
Tim Lincecum
,
Anibal Sanchez
,
Jair Jurrjens
,
Gio Gonzalez
,
Clayton Kershaw
and
Ryan Vogelsong
. There were eight more at 2.25 or below for the month (again, with at least 20 IP). And this is only starting pitchers, as there have been several dominant relievers, too. Basically, this was a tough choice, and our variety of selections backs that up. In cases like this, there aren't really any wrong answers -- just lots of right answers.
On the offensive end,
Jose Bautista
continued to silence doubters. In April, he was showing 2010 was no fluke and in May he was showing April sure wasn't either. He hit .360 with 11 home runs, 23 RBI and a 1.267 OPS. We also saw
Curtis Granderson
and
David Ortiz
club 10 homers in the month while
Matt Joyce
hit .414.
Adrian Gonzalez
drove home 31 runs to go with his nine homers in the month, while
Jose Reyes
also starred (.364 average, nine doubles, six triples, 11 steals). Still, they all fell slightly short in our eyes to the emergence of Jay Bruce as a star.
The 24-year-old
Reds
right fielder has shown flashes of brilliance throughout his young career, but staying consistent has been a problem. In May, it wasn't. He led the majors with 12 home runs and 33 RBI, while also hitting .342 with a 1.140 OPS. He also led in total bases and tied for the lead in extra-base hits. Only Gonzalez, Reyes and
Hunter Pence
collected more total hits and only Granderson scored more runs in the month.
Click here to see last month's selections.
Batter of the Month
Danny Knobler
Scott Miller
Jay Bruce, Reds
When I saw Bruce last week in Philly, he told me he's looking for consistency. If he ever has six consistent months like this one, he'd hit 72 homers with 198 RBI. Bruce also believes he's become a better hitter. So do I. Remember, he just turned 24. When Adrian Gonzalez turned 24, he was in his first season as a big-league regular. Same with Joey Votto. This could well be the start of something big.
Jay Bruce, Reds
We're watching a hitter mature right before our eyes. To actually put together a better month than Boston's Adrian Gonzalez is a spectacular month, but Bruce has shifted me away from Gonzo with his incredible production. Added bonus: He's scorching lefties, too.
Evan Brunell
C. Trent Rosecrans
Matt Joyce, Rays
Let's get one thing straight -- Joyce is no Jose Bautista, but he still had a fine month, ripping opposing pitchers for a .414 average and tacking on 14 extra-base hits. His emergence has hid the decline of Sam Fuld and been a major reason why the Rays are hanging around the top of the AL East. No other batter cracked the .400 mark in May.
Jay Bruce, Reds
Not only did Bruce hit .342/.402/.739 this month, he also had 12 homers and 33 RBI. But it's not just the raw numbers. He came through when his team needed him the most (even if Cincy didn't always finish it off) with five hits during the month that tied games or gave the Reds the lead in the sixth inning or later -- the most in baseball in that category.
Matt Snyder
Fantasy -- Al Melchior
Jay Bruce, Reds
He's been good before in his career, but never this consistent or deadly. We knew the 2007 Minor League Player of the Year had the potential, and at age 24 he's showing its at the big-league level. With the Bruce power surge, the Reds now have two MVP-caliber players.
Jay Bruce, Reds
After a sluggish April, Bruce went on to lead all hitters in overall production in both Rotisserie and Head-to-Head Fantasy formats for the month of May. Not only did he bang a dozen homers, but Bruce was one of only two players to drive in more than 30 runs for the month.
Pitcher of the Month
Knobler
Miller
Justin Verlander, Tigers
May was a great month for pitchers, and the only way to decide was to think back to who had the most memorable games. Let's see, who threw his second career no-hitter? And who threw 7 2/3 shutout innings against an on-fire Red Sox team? Answer: Justin Verlander. I know, he also allowed six runs to the Rays, which kept his May ERA (2.62) from looking as flashy as Josh Beckett's 1.00. Two blown saves cost Beckett a 4-1 month. But he didn't throw a no-hitter.
Justin Verlander, Tigers
I like horses. No, not Secretariat. Dominant workhorses. And while Atlanta's Jair Jurrjens had a great month, Verlander threw a no-hitter AND stuck around through 132 pitches the other night in knocking down Boston, one of the toughest lineups in the game. Six starts, 33 Ks and one hellacious WHIP.
Brunell
Rosecrans
Clayton Kershaw, Dodgers
Kershaw doesn't have the lowest ERA of any starting pitcher in May, but he does check in at 1.77. What he holds over others is strikeouts, plus luck. Kershaw's 46 punchouts in May were big and he hasn't gotten away with as much as others have, evidenced by Kershaw's 2.57 xFIP in May.
J.J. Putz, Diamondbacks
The Diamondbacks entered May 6 1/2 games out of first place in the NL West and end it a half-game up on the defending World Series champs. One of the biggest reasons for the team's turnaround is the bullpen, led by closer J.J. Putz who had 11 saves and didn't allow an earned run all month.
Snyder
Fantasy -- Scott White
Anibal Sanchez, Marlins
Toss up between Jurrjens and Sanchez, but there's no wrong answer this month. I'm going with Sanchez because he stepped up with Josh Johnson down, going 4-0 with a 1.66 ERA, 0.92 WHIP and 44 strikeouts in six starts, averaging more than seven innings per start.
Anibal Sanchez, Marlins
Sanchez's five-start stretch to end May was about as good as you'll ever see. He allowed no earned runs in three of those starts, pitching seven innings or more in all five. His 4-0 record, 1.66 ERA, 0.92 WHIP and strikeout per inning for the month were enough to make him the highest-scoring pitcher in Fantasy, even over Justin Verlander and his no-hitter.
Danny Knobler and Scott Miller are Senior MLB Writers; Evan Brunell, C. Trent Rosecrans and Matt Snyder are Eye on Baseball Bloggers; Al Melchior is a Fantasy Data Analyst; and Scott White is a Fantasy Writer.
For more baseball news, rumors and analysis, follow @cbssportsmlb on Twitter or subscribe to the RSS feed.