By Evan Brunell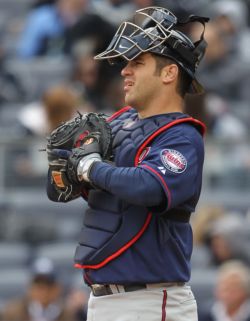 Joe Mauer
, who hasn't played since April 12, still has no timetable for a return from bilateral leg weakness, but whenever the former MVP does return, it will be behind the plate.
"He signed an eight-year deal to catch in the big leagues for the Minnesota Twins," Twins manager Ron Gardenhire told MLB.com. "So we're trying to get him back as a catcher. If it doesn't work out when he comes back, then we're going to have to figure somewhere else. And that's a lot harder than everybody makes it out to be, because we have some corner people that are pretty good baseball players."
Those who move out from behind the plate tend to shift to first base -- ably filled in by Justin Morneau currently, although he's struggling this season with a pinched nerve in his shoulder -- and some even move to third base, as Pablo Sandoval did. There are exceptions. Craig Biggio, who will enter the Hall of Fame in a matter of years, made the transition from backstop to second baseman.
The Twins don't have anyone blocking Mauer at third but are sticking with Danny Valencia at the spot for now. Plus, they have top prospect Miguel Sano plying his trade down on the farm.
"(Mauer) could play anywhere," Gardenhire added. "He played the infield as a young player. We can make him the tallest shortstop since Cal Ripken. Right now, he's a catcher, and that's where he's going to be until Joe says, 'I can't do it anymore' or we deem him not physically able to do that. But we believe he is. He just needs to get healthy."
Mauer has been DHing in extended spring training but still hasn't received regular time behind the plate. He's been doing catching and throwing drills, but that's about it, and it has been a long and frustrating rehab.
"There is no top secret date," Gardenhire said. "There is no specific date to do anything other than day-to-day. Once he gets out there, the player will eventually tell us. We wrote a script on how to get him into position to play; once he starts playing, it's going to be a few innings here, a few innings there and gradually start building up to it."
For more baseball news, rumors and analysis, follow @cbssportsmlb on Twitter or subscribe to the RSS feed.