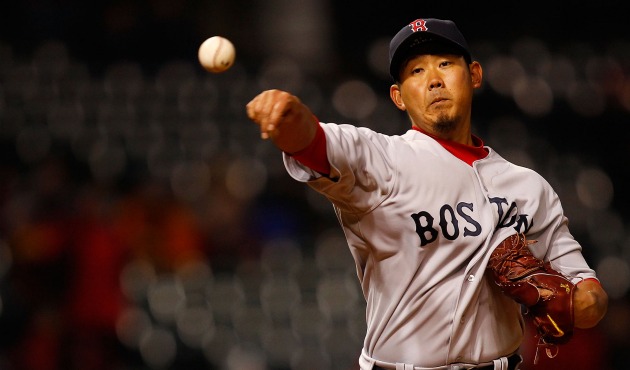 By Evan Brunell
The fact that
Daisuke Matsuzaka
may never throw a pitch again for the
Red Sox
is a tough blow to a team that was hoping Matsuzaka could return to the talent that saw him as a big cog in the rotation in 2007 and '08. But throughout the process of Dice-K's injury and eventual decision to have Tommy John surgery, the odds of finding a Red Sox fan who was disappointed in the news is akin to the odds Dusty Baker ever joins Twitter.
That brings up a sensitive question -- is it OK to be happy when a baseball player is injured?
In short: Yes.
Now it's time for the caveats. No one should ever wish that someone actually gets hurt. The fact that Matsuzaka has to deal with a bum elbow and will need to go under the knife is terrible. His livelihood and health are at risk, just like Posey is struggling with his broken leg.
But if Matsuzaka had been optioned to Triple-A Pawtucket, the same amount of relief Red Sox fans felt would still have applied. If Boston had traded Dice-K away, it would still have been seen as welcome news. And if and when Matsuzaka finally leaves the Red Sox organization next season, not many people will shed a tear. What all these scenarios have in common is not the means, but the end, to trot out a cliche. It's irrelevant
why
Matsuzaka is no longer pitching, only that he is. Red Sox fans are happy that he's no longer pitching because he's been a lousy pitcher for over two years now, not because he needs to undergo Tommy John surgery.
Does that mean Red Sox fans everywhere were wishing for injury to Dice-K to get him out of Boston's hair? No. (Well, I suppose there may be a few, but we're talking the lunatic fringe here.) But they sure were wishing that Matsuzaka just didn't pitch anymore. Baseball players have a tough battle: they want to be perceived as human beings but all too often are viewed as robots -- a cog in a machine. The explosion of fantasy baseball hasn't helped matters, as players are now reduced to the basest of Xs and Os. That's because, at the end of the day, fans and the front office demand results. No matter how gregarious one may be or invaluable to an organization -- whether that's a baseball club or the company that writes your checks -- if you stop being productive, you will be fired.
When
David Ortiz
slumped badly two seasons ago and last season to start the season, he couldn't understand why many were calling for his benching despite what he had done for the team and how much he meant (and still means) to the fanbase. What he didn't understand was that the fans' affection for Ortiz wasn't -- and shouldn't -- impact the fact that he simply wasn't producing at the time, and there was serious question as to if he ever would again. Every season, there's articles written about aging stars whose time has passed and how it's time for them to ride into the sunset -- and when it happens, there's a sense of relief.
Ken Griffey, Jr., was actively harming the
Mariners
last season in his attempt to stretch out his season once more. How his career then ended with NapGate and hopping into his car and driving off without informing the team is unfortunate, but no one can say it wasn't the right move. Griffey was done, just like Ortiz looked like, just like Matsuzaka is. All different situations, all different processes, but the same idea pervaded these players: they could no longer be a productive part of a team.
Daisuke Matsuzaka is not pitching. And believe me, plenty of fans in Boston are plenty happy about that. And that's OK.
For more baseball news, rumors and analysis, follow @cbssportsmlb on Twitter or subscribe to the RSS feed.