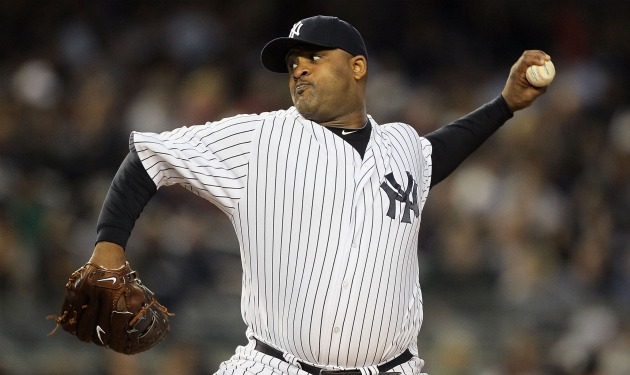 By Evan Brunell
The
Yankees
are in first place and working on a four-game winning streak headed into Friday night, so things are going well in New York, but there's still plenty more to be done.
"We are a championship-caliber-contending team with areas of need that I need to work on," general manager Brian Cashman told the
New York Post
. And that area isn't the lineup, which has been deep in power but has struggled in batting average or getting on base. Nope, what Cashman wants to improve is the starting rotation.
"Overall, the pitching is going to be the defining thing for us," Cashman said. "The pitching has excelled, but it is not wise or prudent to sit back and try not to reinforce and improve on it."
No kidding. Does anyone really think that
Bartolo Colon
,
Freddy Garcia
,
A.J. Burnett
and
Ivan Nova
will keep up their effectiveness all season long behind
CC Sabathia
(pictured)?
Colon is pitching like a No. 2 pitcher, but had radical treatment for his arm that involved stem cells and can't be considered certain to continue his success, let alone ability to take the mound. Garcia, meanwhile, has his lowest ERA since 2001 and Burnett's resurgent season is a house of cards, with his peripherals indicating he's pitched about the same as his 2010 season. Nova is a rookie and looks as if he could be a back-end rotation member for a long time, but that becomes irrelevant in October.
Plus, despite the success of the rotation, the Yankees remain in the middle of the pack when it comes to starter's ERA, with a 3.83 mark. Their overall ERA is better at 3.52 thanks to a bullpen that has impressed without big contributions from
Pedro Feliciano
and
Rafael Soriano
.
So can they get one?
"They are among a small, handful of really good and flawed teams in the American League," an AL executive with a different team said. "What they will need to be really good [starting pitching], they have the talent in a deep farm system to get. The downside, though, is the trade market is slow developing and doesn't look very rich [in starting pitching]."
There should still be some solid pieces available in trade for starting pitching, and you never know when the next big pitcher will hit the market. Even if the team can't get a frontline No. 1 pitcher, adding a solid No. 3 would go a long way toward deepening the Yankees rotation.
Speaking of the deep farm system, the Yankees have two top pitching prospects in Manny Banuelos and Dellin Betances nearing the majors. Banuelos has a 2.12 ERA in 10 starts for Double-A, while Betances has a 1.82 mark in eight starts for the same team. It seems clear these two will one day be a big part of the Yankees' rotation, but Cashman doesn't see that happening in 2011.
"They are pitching without interference and I am glad they are doing well," he said. "I am not holding any internal conversations about dates down the road to bring them up. Actually, I am happy Garcia and Colon are pitching so well because it is allowing all of our kids at Double- and Triple-A to take their normal turns without interruption."
Cashman also added that the Yankees have not put any feelers out to Andy Pettitte, nor has Pettitte reached out, so for New York to improve the rotation, it will either have to see Phil Hughes bounce back from his mystifying velocity issues that landed him on the DL or hit the trade market.
For more baseball news, rumors and analysis, follow @cbssportsmlb on Twitter or subscribe to the RSS feed.