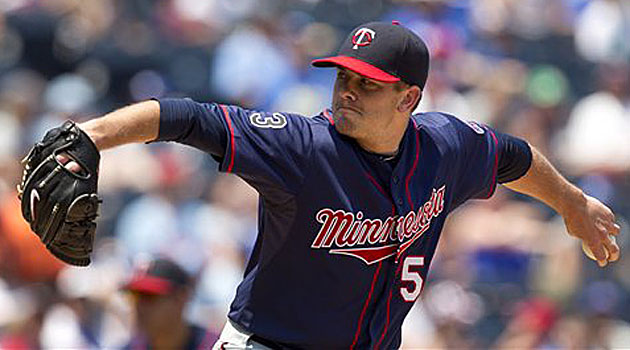 By Matt Snyder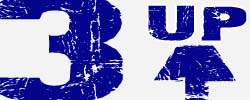 Brian Duensing, Twins.
Don't look now, but the Twins just swept the
Royals
in four games and are threatening to yield the league's worst record to the
Astros
. They're only one game back -- that is, if there were standings for all of the MLB. Sunday, Brian Duensing took center stage for the all-of-a-sudden hot Twins. He dazzled in eight innings, giving up only six hits and a walk. The Twins still trail the
Indians
by 12 1/2 games, but it's not near as bad as it was a week ago.
Chad Billingsley, Dodgers.
He labored through five innings, allowing eight hits, three walks and four runs -- so why is he here? Billingsley starred at the dish for the Dodgers. He hit a solo home run in his first at-bat, took a bases-loaded walk his second time up and finished things off with an RBI double. That's quite a day for a guy who entered Sunday with a career .137 batting average and 15 RBI. He's now hitting .304 in 2011 with four extra-base hits, however, so he's definitely improved substantially with the stick.
Josh Wilson, Brewers.
The journeyman entered Sunday with almost as many teams (seven) as career home runs (eight). His career .318 slugging percentage gives us some idea of his power prowess. Sunday afternoon, though, Wilson clubbed a home run to left-center field in the top of the 11th, which proved the ultimate difference in the Brewers' 6-5 extra-innings victory. The win was the third straight for the Brewers, who entered the series with a 9-19 road record. Wilson now has two homers in eight at-bats for the Brewers. Prior to joining them, he had just seven homers in 930 career plate appearances.
---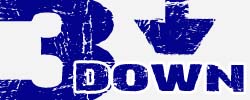 Top of 11th inning for Arizona.
It took the
Diamondbacks
a three-run ninth inning to force extras against the
Nationals
, but the top of the 11th was disastrous and proved too much for the Snakes. A single and sac bunt started things rather innocently before a blown call at first base allowed
Roger Bernadina
on. Then the Nats decided to intentionally walk
Jayson Werth
and take on
Rick Ankiel
instead. But pitcher
Joe Paterson
walked Ankiel, too, forcing in the go-ahead run. For good measure, Paterson then coughed up a grand slam to Mike Morse -- who is one of the more underrated hitters in the league at this point. The umpire, the decision to intentionally load the bases and Paterson all count as "down" issues here.
Jordan Lyles, Astros.
Wandy Rodriguez
is due back June 13 and the Astros aren't going to a six-man rotation. When he returns, basically the only options are Lyles being demoted back to the minors or
Aneury Rodriguez
moving to the bullpen. Outings like Sunday won't help the 20-year-old Lyles' cause. He was up in the strike zone all day and lasted only four innings -- giving up five hits and four earned runs. He only walked one, but needed 96 pitches just to get through his four frames. He'll get one more shot to prove to the Astros -- and maybe even himself -- that he belongs in the bigs and doesn't need more minor-league seasoning.
Tim Hudson, Braves.
He was torched by the
Mets
in Citi Field, coughing up seven hits and five earned runs in just four innings. It marked just the seventh time in Hudson's last 108 starts he didn't work into the fifth inning (
thanks to Mark Bowman
for the stat). The Braves have now lost four of six.
For more baseball news, rumors and analysis, follow @cbssportsmlb on Twitter or subscribe to the RSS feed.