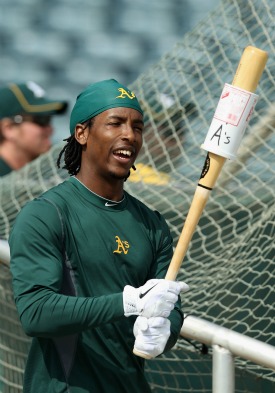 By C. Trent Rosecrans
The prospects are coming! The prospects are coming!
Isn't that what Paul Revere said? Oh, right, it was something different. But forget Paul Revere. This is much more interesting.
Now that it's June and many teams believe they're free from allowing a top prospect to earn Super Two status (if it indeed exists in the next CBA), the prospects are heading to the big leagues.
The Dodgers called up Dee Gordon Monday, and then the A's called up Jemile Weeks. Unlike Gordon, Weeks was in the lineup right away, leading off and playing second. Gordon is in the Dodgers' lineup Tuesday night.
Weeks, the younger brother of Brewers second baseman Rickie Weeks, was a first-round pick of Oakland in 2008 out of the University of Miami. He was hitting .321/.417/.446 with three home runs and 10 stolen bases at Triple-A Sacramento.
The A's also called up lefty Bobby Cramer, putting Brett Anderson and Mark Ellis on the disabled list. To make room for Weeks on the 40-man roster, Dallas Braden was moved to the 60-day disabled list.
Other prospects who could be coming any day include San Diego's Anthony Rizzo, Seattle's Dustin Ackley and Toronto's Brett Lawrie.
Ackley's another second baseman, and he's hitting .302/.420/.492 with eight home runs and 31 RBI in 59 games. He could add some sock to an anemic Mariner offense.
Lawrie was expected to be called up last week but was placed on the minor-league disabled list after being hit in the wrist on Sunday. The move is retroactive to Thursday. The minor-league DL is only seven days, and Lawrie suffered just a bruise, so he may be called up as soon as early next week. Lawrie has reportedly improved defensively at third base, where the team has gotten very little production.
Padres general manager Jed Hoyer told the Associated Press on Tuesday that Rizzo was "close" to being called up but that no decision has been made. He's hitting .363/.444/.715 with 16 home runs and 63 RBI for Triple-A Tucson. Brad Hawpe has been the team's first baseman, and he has been struggling (.238/.305/.366), and he's also been working in right field to make way for Rizzo.
For more baseball news, rumors and analysis, follow @cbssportsmlb on Twitter or subscribe to the RSS feed.