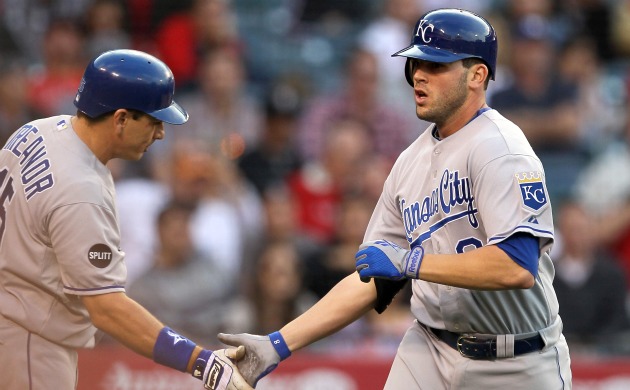 By Evan Brunell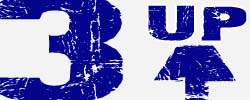 Mike Moustakas, Royals --
The latest Royal phenom banged his first career home run in his second game up; he was hitless in two other at-bats and added a walk. The blast came on a solo shot that pulled the Royals within two of a game they would tie and go on to lose 7-5. He blasted a pitch middle-away over the right-field fence, and
Angels
right fielder
Torii Hunter
spoke to the fans and got the ball back for the rookie.
Chase Utley, Phillies --
Utley had a solo home run just like Moustakas, which brought the crowd some measure of relief. Manager Charlie Manuel said recently that he felt Utley was beginning to come out of spring-training mode and was ready to hit. Boom, home run. He was 2 for 5 with a double and four RBI all told, pushing his line to a un-Utley like .252/.341/.394. The Phillies broke open the game late against the
Cubs
, with Utley's two-run shot capping the 7-1 victory.
Mike Leake, Reds --
In a matchup between
Tim Lincecum
and Mike Leake, Lincecum will win 4 out of 5 times. Well, this was one of those other times as The Freak imploded and Leake shined against a decrepit
Giants
lineup by going eight strong with four hits, one walk and eight whiffs. Bad offense or not, stellar outing with 113 pitches, 72 for strikes. Leake's ERA dropped all the way to 4.06 and has earned himself some rope with a second straight strong start.
---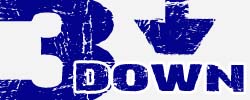 Brandon Morrow, Blue Jays --
Morrow had a very bad day, skittering his ERA up to 5.63 by coughing up nine earned runs in 4 1/3 innings. Yikes. He added four strikeouts against three walks and quite a few
Red Sox
hitters had banner days. It turned into such a rout, Toronto put backup infielder
Mike McCoy
into the game to pitch, where he flashed a knuckleball en route to losing 16-4.
Colby Lewis, Rangers --
Lewis lasted much shorter than Morrow, only tossing 1 1/3 innings with 52 pitches allowing six runs, two walks and a whiff. David Bush stifled the
Twins
offense for 4 2/3 innings before leaving with an injury and was a laugher the entire game. That's two straight bad showings for Lewis. Is he slumping or is something else going on?
Kelly Johnson, Diamondbacks --
Johnson deserves credit for punching in three runs on a double, but he did whiff in the four other at-bats. While striking out is really not any worse than grounding out, that many K's gets your attention. Johnson's hitting a moribund .221/.294/.442 and is trying to find the stroke that fueled his 26-homer season last year. He's been pulling out if it lately and has really been turning on the power but his batting average has gone backwards as of late. A couple lucky breaks, and things could be looking different.
For more baseball news, rumors and analysis, follow @cbssportsmlb on Twitter or subscribe to the RSS feed.