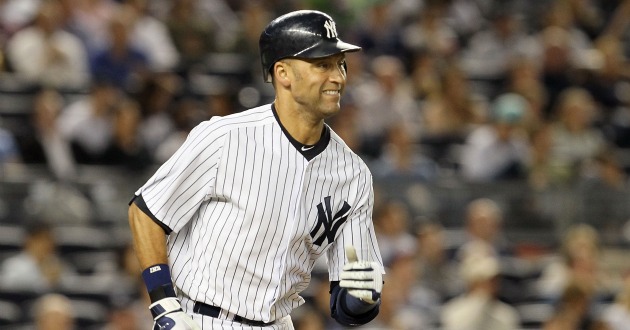 By Evan Brunell
In a rare interview,
Derek Jeter
appeared on ESPN New York before Monday night's game to chat about his chase to hit No. 3,000.
Jeter, who collected a single before leaving Monday's game with a calf strain that could land him on the disabled list, said he's trying to enjoy the chase to 3,000. That chase will likely have to be delayed as Ramiro Pena was spotted Tuesday at Yankee Stadium, which would indicate Jeter going on the DL.
"It's something that I'm proud of, I'm proud that I'm to this point, but I've still got a long ways to go," Jeter said in a transcript provided by
Sports Radio Interviews
. "I never take anything for granted. You saw that
Bernie Mac movie
where they took one of his hits away, and 'Mr. 3000' ended up with 2,999, so you're never sure until it happens."
Jeter admitted he has thought about getting the 3,000-hit milestone, especially after hit No. 2,000 -- but that it's never been a goal. Rather, the goal is to be consistent.
"It takes a long time; you have to be durable; you have to be consistent," Jeter said. "One stat I don't think most people hit is the 200-hit plateau; well you have to do that every year for 15 years in order to get to 3,000. This is my 16th year, so I'm happy. You have to be consistent obviously to have an opportunity to do it. It's something I'm proud of. I'm proud of the fact I'm close, and I hope I can get there soon."
Jeter also spoke about his team, saying that inconsistency and a plethora of injuries have made it tough for New York to hang in there -- "but I like where we're at right now. Yeah there's a lot of room for improvement, but we could be in a whole lot worse shape. I think everyone here is working hard, and with some guys down other guys are going to have to step up. But I like how we've been playing."
He also sees a parallel between the Miami Heat, who lost the NBA Finals on Sunday, and the
Yankees
.
"They became the talk of the NBA. You either love 'em or hate 'em, which is very similar to our team," Jeter said. "So that team got a lot of attention, and hey, they had a good year. Like you said before, it's not easy to win, a lot of things have to go right. If you have a good team with good players, you're going to have an opportunity to win, but that doesn't mean you're just going to go out on the court and beat every team you play."
Here's guessing Jeter hopes to avoid one more parallel to Miami: losing the 2011 postseason.
For more baseball news, rumors and analysis, follow @cbssportsmlb on Twitter or subscribe to the RSS feed.