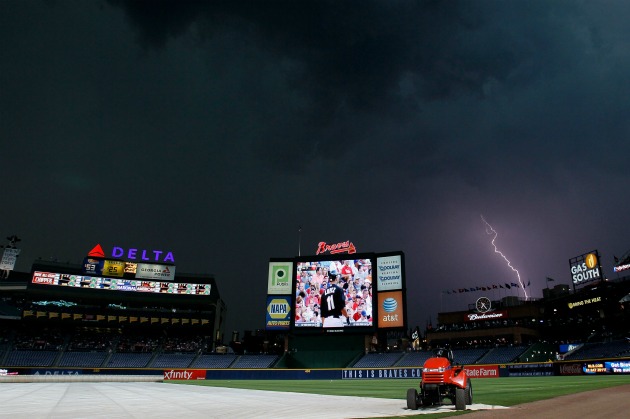 By C. Trent Rosecrans
Mother Nature sometimes has a wonderful sense of humor.
The Mets complained to Major League Baseball following Tuesday's game in Atlanta about the field being too wet and manager Terry Collins insinuated the field was watered down to help slow the Mets and Jose Reyes, who slipped three times on the field in Tuesday's 4-3 New York victory.
The response came not from Bud, but from above, as rain has delayed the start of Wednesday's game. The game began at 8:30 p.m., an hour and 20 minutes after the original scheduled start time.
Braves manager Fredi Gonzalez denied the Braves watered down the field.
"Absolutely not. There's a whole infield. Usually if you're going to do that, you'll do it right there at first base," Gonzalez told Carroll Rogers of the Atlanta Journal-Constitution. "There was absolutely no gamesmanship being played."
Reyes still had two stolen bases on the night despite the dirt, but Collins still believed the Braves were trying to slow down his team.
"You alter the field according to your team," Collins told the New York Times. "These guys do not steal bases. They are not a big base-stealing team, [Jordan] Schafer is about the only guy. They are a fly-ball-hitting team, not a ground-ball-hitting team, so the field was overly wet. I don't know what to say except, I'd like to move the fences in when we play against [Mike] Stanton. You can't."
For more baseball news, rumors and analysis, follow @cbssportsmlb on Twitter or subscribe to the RSS feed.