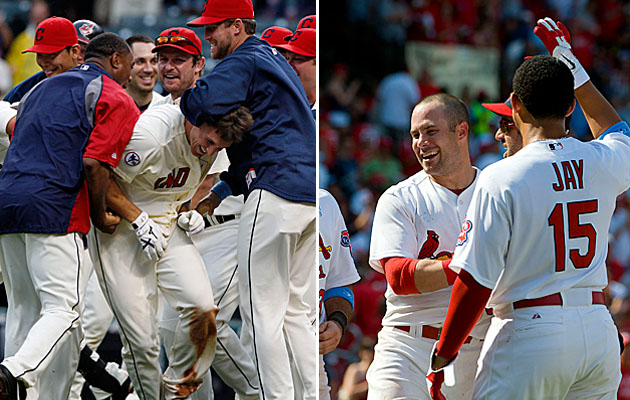 By Matt Snyder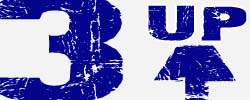 Cord Phelps, Indians.
The home town fans had to wait through a nearly two hour rain delay and then until the 11th inning, but the rookie second baseman sent them home happy. Phelps launched a
Tim Wood
pitch into the right-center field seats for a game-winning, three-run home run. It was the first home run of his career, so perhaps he has a flair for the dramatic. He also doubled and scored in the second inning. The win kept the Indians in first place, a game ahead of the
Tigers
, and helped them to complete a series sweep for the first time since taking three from the
Reds
May 20-22.
Skip Schumaker, Cardinals.
Like Phelps, Schumaker's walk-off home run was a first. While it was the 22nd home run of his career, it was the first against a left-handed pitcher. The shot came a half-inning after Cardinals closer
Fernando Salas
blew a save -- by allowing
Alcides Escobar
to hit his first homer of the season -- and one batter after
Daniel Descalso
was hosed at second when he tried to stretch a single into a double
against Jeff Francoeur
. Schumaker also had a go-ahead RBI single in the sixth, when he entered as a pinch hitter. The win marks the Cardinals' second in a row after a seven-game losing streak and moved them back into a tie with the
Brewers
atop the NL Central.
Jason Vargas, Mariners.
All he did was go out and spin the best start of his career against the MLB-best
Phillies
Sunday. Vargas threw a three-hit shutout while walking two and striking out six. He really settled in late, as the only baserunner for the Phillies after the fourth inning was
Ryan Howard
, who singled in the ninth. Don't look now, but the Mariners -- who almost everyone pegged to finish last this season -- are only a half-game out of first place in the AL West.
---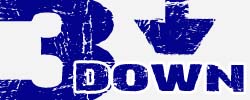 Brewers pitching staff.
The Brewers have coughed up at least 10 runs in three of their past four games. Worse yet,
Shaun Marcum
left after the first inning with an injury Friday night and
Yovani Gallardo
was touched up for nine hits and five earned runs in three innings Sunday. The bullpen wasn't much better, giving up five hits, two walks and four earned runs in five innings. The Brewers have now lost five of seven since sweeping the Cardinals and are tied for first place with those same Cardinals -- despite the Cards recently having lost seven straight.
Yorvit Torrealba, Rangers.
The Rangers' backstop had a rough third inning. He committed two errors and probably should have prevented
Alexi Ogando
's wild pitch from getting by him. The
Braves
plated two unearned runs that inning, which ended up being the difference in a 4-2 Rangers loss. Torrealba was then pulled from the game, though it was reportedly because he was "out of gas" instead of being pulled for the poor defense.
The Florida Marlins.
Manager resigns. Club loses 10th straight game. Club is 1-18 in June. Not that there's any shame in this one, but
James Shields
has started twice against the Marlins and pitched 18 innings without allowing a single earned run.
Logan Morrison
tweeted "uncle" after the game.
Hanley Ramirez
still can't hit. We could go on and on, but it's unnecessary. It's just an all-around mess. Jack McKeon must really love managing baseball teams -- of course, in his defense, things can't get any worse.
For more baseball news, rumors and analysis, follow @cbssportsmlb on Twitter or subscribe to the RSS feed.