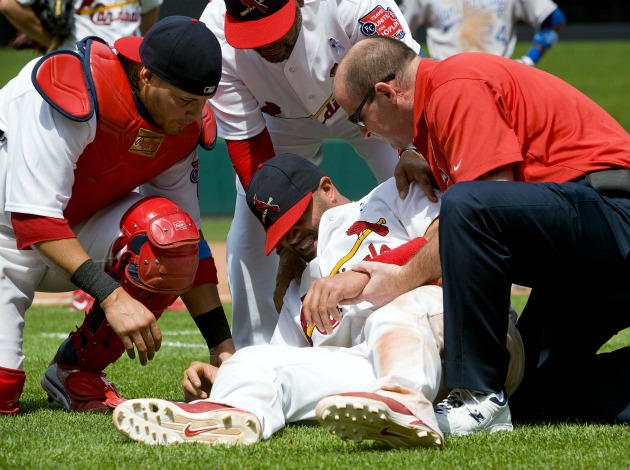 By C. Trent Rosecrans and Evan Brunell
Cardinals first baseman Albert Pujols is out four to six weeks with a non-displaced fracture of the left radius (wrist/forearm), the team announced on Monday. General manager John Mozeliak said any return prior to six weeks is unlikely, as he will be placed in a soft cast for four weeks with no activity allowed. Then he will need to work up to baseball activities and a rehab start, so mid-August appears to be the most feasible return for Pujols.
"Six weeks is a long time," manager Tony La Russa told FoxSportsMidwest.com. "But the No. 1 priority is to give Albert every bit of the time so when he comes back, he's not being cautious and being pushed."
The injury was diagnosed on Monday after Pujols underwent an MRI and a CT scan. The good news is that while his left shoulder was sore, no structural damage was found.
Pujols left Sunday's game with the Royals when he collided with Wilson Betemit in the sixth inning of the victory over Kansas City.
The three-time MVP had a slow start of the season -- hitting just .245 in April and managing only a pair of homers in May -- but in June has been much more Pujols-like, hitting .317/.419/.778 with eight home runs in 17 games. For the season, he's hitting .279/.355/.500 with 17 homers.
"You can't replace a player of his magnitude and there's no words or anything I can say up here that will convince people otherwise,"Mozeliak said. "But you know what? We've been handed a lot of uphill battles this year and we found ways to work around them. Even though he's definitely going to be missed, we still have to find ways to win baseball games and that's what we will do.
"All the medical people feel that this shouldn't be a problem [once it heals]," Mozeliak added. "But obviously wrists are always a concern when you deal with hitters, so it's something that we'll just have to work through. In his case, he already has a pretty strong grip as it is. That part of it, he's already ahead of the curve, so with that said, most doctors and the medical staff are optimistic that this won't be something that lingers for him."
With the injury, Pujols is will miss the All-Star Game in Phoenix next month.
It does soften the blow that the Cardinals' biggest offseason signing was for a first baseman -- it's just that the team signed Lance Berkman to play the outfield. If Berkman moves to first, it should open right field for Jon Jay, offsetting any defensive loss of Pujols and actually improving the team's defense overall. Yet, its no guarantee Berkman will shift to first, although the odds are he still sees a few games there.
"When we were talking to [Berkman] after we signed him and people were worried about his legs in the outfield, he said actually first base is more stressful with the quick left and rights," La Russa said. "So getting Lance in a place where he's physically feeling the best and can play the most is a real good answer for us, so I want to talk to him and say, 'Outfield or first base?' If it's the outfield, he'll play the outfield more. Probably my expectation is we'll have some versatility there."
Jay's also played well in his limited duty, hitting .313/.364/.436, while not Pujolsian, it's still respectable. And it's at least enough to keep pace with the Brewers and Reds in the National League Central. The Cardinals are committed to a strong offense, and Mozeliak admitted that Pujols' injury could change what he looks for on the trade market.
"That's obviously something you think about but I don't think we're in a position yet to really determine if we'd go down that path," Mozeliak said. "But one of the things we were trying to do was make sure we scored runs this year and losing your No. 3 hitter is not going to help.

"We've had creative ways of scoring runs and we'll just see, but does it open some potential opportunities out there that maybe you wouldn't have explored 48 hours ago? Yeah."
Pujols missed 13 games in 2008 when he went on the disabled list with a leg injury and 18 games with a strained muscle in his side in 2006. St. Louis went on to win the World Series in 2006, but missed the playoffs in 2008.
Pujols is just the latest in a long list of Cardinals injury so far this season. St. Louis' spring training started with talks of Pujols' contract situation, but quickly turned to injuries when starter Adam Wainwright was lost for the season
The start of the regular season was marked by Matt Holliday having to undergo an emergency appendectomy the day after opening day. Holliday's missed 25 games with various ailments, including a stint on the disabled list with a quad strain, returning last week.
Third baseman David Freese (hand) and utility man Nick Punto (forearm) are expected to start rehab assignments this week and return soon. Allen Craig, who is primarily an outfielder but has played in the infield, is also on the disabled list with a knee injury.
CBSSports.com senior writer Scott Miller joins Scott Braun to talk about Pujols' injury and what it means for the Cardinals.
For more baseball news, rumors and analysis, follow @cbssportsmlb on Twitter or subscribe to the RSS feed.