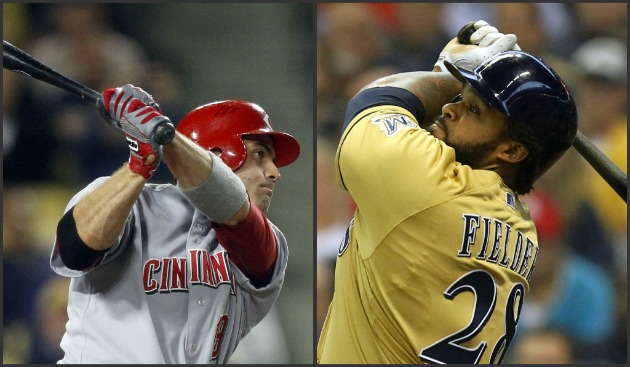 By C. Trent Rosecrans
Although St. Louis'
Albert Pujols
still leads the voting at first base for the All-Star Game, the race for first base will likely come down to two other National League Central first basemen, Cincinnati's
Joey Votto
and Milwaukee's
Prince Fielder
.
Even if Pujols hangs onto his lead over Votto and Fielder, he went on the disabled list on Monday with a forearm fracture and is unlikely to be available for the July 12 All-Star Game at Phoenix's Chase Field. However, All-Star rules stipulate if a voted starter in unavailable, the honor goes to the second-place finisher at the position.
In the next-to-last National League balloting update before the July 3 announcement of roster, Pujols is second in total votes for NL players behind Milwaukee's Ryan Braun. Braun leads the voting with 3,034,057 votes while Pujols has 2,806,864 votes.
Joey Votto is second in balloting among first basemen, narrowly edging the Brewers' Prince Fielder 2,270,211 to 2,066,327. Both Votto and Fielder certainly have convincing arguments. Votto, the reigning NL MVP, leads the NL in on-base percentage (.449) and is third in batting average (.327), while Fielder is second in the league in OPS (1.031), is tied for the league lead with 20 home runs and leads the league with 61 home runs.
The second base spot has a similar split between a Red and a Brewer, with Cincinnati's Brandon Phillips leading Milwaukee's Rickie Weeks 2,286,378 to 2,094,502 with Weeks closing in.
Philadelphia's Placido Polanco leads Atlanta's Chipper Jones by more than a million votes at third base, while Colorado's Troy Tulowitzki has a respectable lead over the Mets' Jose Reyes at shortstop. The Braves' Brian McCann leads the Cardinals' Yadier Molina by nearly half-a-million votes. The outfield's top three are Braun and the Cardinals' duo of Lance Berkman and Matt Holliday. The Dodgers' Matt Kemp and Andre Ethier, along with the Reds' Jay Bruce, are the next three in line.
Complete balloting is up at MLB.com.
The American League update will be released tomorrow.
For more baseball news, rumors and analysis, follow @cbssportsmlb on Twitter or subscribe to the RSS feed.