By C. Trent Rosecrans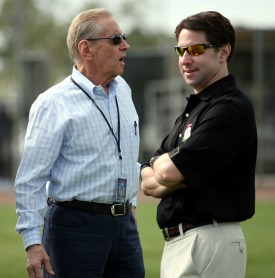 If the Mets find themselves in contention a month from now, adding payroll won't be an issue, or so says team chief operating officer Jeff Wilpon.
Wilpon, speaking to Dan Martin of the New York Post, says Sandy Alderson won't have his hands tied by ownership when it comes to adding players.
"He'll have all the opportunity in the world to bring anybody he wants in," Wilpon said. "The way for him to do that is to bring the ideas to us and we'll talk about it. But he does not have restrictions. We'll deal with everything on a case-by-case basis."
Alderson, publicly at least, says that sounds well and good and he'll be looking. But a lot can change between now and the trade deadline. The Mets are 35-37 and 9 1/2 games out of first in the NL East and five games back in the wild card, with five teams ahead of them and tied with Pittsburgh and Washington.
"Tied with Pittsburgh and Washington" is usually not a phrase used by teams looking to make a playoff push with trades, even if the Pirates and Nationals are improved this season.
The good news for Mets fans may be that the same philosophy appears to be in place for the players currently on the roster, including shortstop Jose Reyes, who is a free agent after the season.
When asked if the Mets still have hope that they can re-sign Reyes, Wilpon told the Post: "Why wouldn't we?"
Well, if you have to ask ...
For more baseball news, rumors and analysis, follow @cbssportsmlb on Twitter or subscribe to the RSS feed.