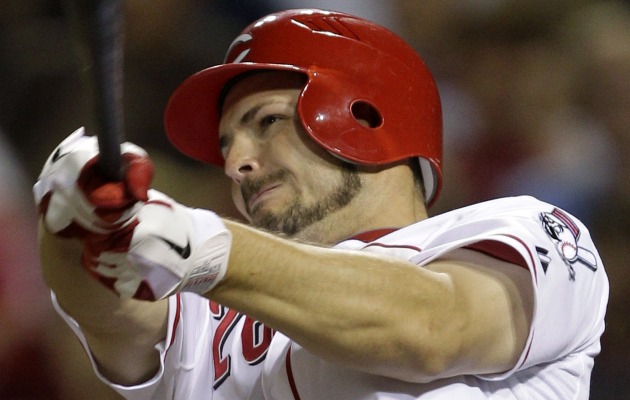 By Evan Brunell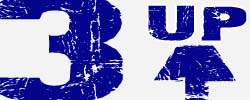 Chris Heisey, Reds
-- Heisey went deep three times in Wednesday's night game against the
Yankees
, allowing the Reds to split the doubleheader with
Johnny Cueto
on the mound. As the Associated Press pointed out, only Pete Rose and
Jay Bruce
are other Reds players with three home runs out of the leadoff spot, and Heisey now joins them in a performance that should give him an even stronger grip on the left-field job. "When you get a hit in your first at-bat, it takes the pressure off the rest of your day," Heisey told the AP. "It relaxes you. Nobody likes to go 0-for-4 or 0-for-5. One home run's a good day, let alone three." Heisey stuffed the boxscore with a 3-for-5 day with three hits (those three homers, duh), five RBI and four runs, reaching base on a fielder's choice in the seventh.

Cliff Lee, Phillies
-- As mentioned
On Deck
, Cliff Lee doesn't usually face a pitcher with an ERA lower than him, but that was the case on Wednesday when Lee toted his 3.12 ERA to the mound against St. Louis'
Kyle Lohse
and his 2.88 ERA. Well, Lee corrected that with his second straight complete game, stifling the
Cardinals
en route to pushing his scoreless streak to 23 innings on a career-high 126 pitches, giving up six hits, one walk and whiffing three. Lee has had three other scoreless streaks reach double-digits with a 14-, 16- and 17-inning scoreless streak with the latter two coming in 2008 and the 14-inning one in 2005. Only one player -- Lohse himself -- reached third base against Lee, hitting a leadoff double before moving over to third.
R.A. Dickey, Mets
-- Dickey wasn't around to earn the win as the Mets needed 13 innings to knock off the
Athletics
, but the knuckeballer did everything he could to keep New York in the game. The Mets pulled ahead by a run in the bottom eighth after Dickey had left, but closer
Francisco Rodriguez
promptly blew the game to send the game into extras. Dickey went eight strong, limiting Oakland to just three hits and one run, while allowing one walk and striking nine out. Overall a fine game for Dickey, who is proving last season was no joke as a breakout for the 36-year-old, and his ERA drops to 3.76.
---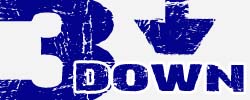 Ramiro Pena, Yankees
-- Poor Ramiro Pena just couldn't figure things out in the first game of a doubleheader against the Reds. Pena received the start at third base as
Alex Rodriguez
took a breather and made three errors -- all on plays involving
Drew Stubbs
, as fellow Eye on Baseball sage C. Trent Rosecrans so sagely points out. Pena had two errors in the fifth, hitting Stubbs in the face with a throw. Pena then followed that up with a bad throw on a
Ryan Hanigan
grounder, allowing Stubbs, who had gotten to third at that point, to score. He then let one go through the wickers in the seventh before starting a double-play. He also contributed an 0-for-3 night at the plate. So yeah, bad day.
Neftali Feliz, Rangers
-- Neftali Feliz was absolutely horrid, allowing four runs in the ninth inning to blow the game 5-3 against the
Astros
. How did it unfold? Glad you asked.
Carlos Lee
greeted Feliz with a double before the righty was able to get his first out. But then a RBI double followed, then an infield single, a back-breaking passed ball by catcher
Yorvit Torrealba
to tie the game, then a two-run blast by
Matt Downs
. Feliz got one more out before being relieved, and the Rangers went quietly in the bottom half. Feliz now boasts a 3.21 ERA on the season. Not bad, right? But it's much worse than you think, as he's walked 15 and whiffed 19 in 28 innings, without adding to either total Wednesday night. Compare that to last season, when Feliz walked 18 and punched out 71 batters in 69 1/2 innings. This is a guy who was asking for a severe wakeup call and finally got it.


Ryan Raburn, Tigers
-- Detroit's had a fetish for Raburn for quite some time and while he looked to be delivering on that promise lately, he's collapsed in 2011 as a 30-year-old in his first year as a full-time starter. He won't get the entire year, though, if he keeps performing poorly, as he dragged his overall line to .204/.244/.336 with an 0-for-4 performance with three strikeouts. Why he was batting second, I have no idea. Raburn shifted over to play second base after starting the year in left, and the Tigers gave up on
Scott Sizemore
after yanking him around and shipped him to Oakland, where Sizemore has a .343/.425/.486 line in 11 games. Think the Tigers may want a do-over?
For more baseball news, rumors and analysis, follow @cbssportsmlb on Twitter or subscribe to the RSS feed.