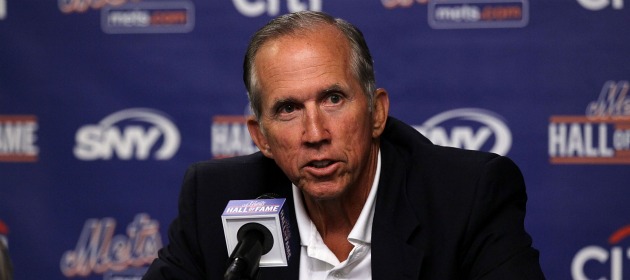 By Evan Brunell
The
Nationals
have found their temporary replacement for skipper Jim Riggleman, who
resigned in a shocking move
earlier Thursday.
The
Washington Post
reports that John McLaren, Riggleman's bench coach, will take over until the Nationals can find a permanent replacement for interim manager, but not one who would necessarily manage beyond the year. So McLaren is an interim interim manager, while Washington searches for a permanent interim manager, I guess?
Funny thing about McLaren taking over for Riggleman is that Riggleman was the man to replace McLaren in Seattle back in 2008 when McLaren was handed his walking papers. Oh, baseball.
But guess who the Nationals are considering as permanent interim manager. Just like Jack McKeon was a blast from the past, so is Davey Johnson.
That's right, the Team USA skipper who last managed a major-league game in 2000 might get back on the bench. The
Post
says that Washington is considering asking Johnson to take over. This may surprise you, but Johnson is "only" 68, so it's not as eye-popping of a move as it was for McKeon to return to his managing ways, but it's still a surprising move.
Johnson's last stint as manager was with the
Dodgers
from 1999 to 2000, when he posted a 163-161 record. Prior to that, he had two years with the
Orioles
from 1996-97, breathing new life into the franchise but feuding with owner Peter Angelos. Prior to
that
, he skippered the
Mets
for seven years from 1984-90, earning a World Series ring in the 1986 fall classic before moving onto the
Reds
from 1993-95. All told, his managerial record rests at an impressive 1,148-888.
Johnson's only season below .500 was in his first year with the Dodgers, and while the club bounced back to register a nine-win improvement and finish second, the former major-leaguer was still handed his walking papers. Since then, Johnson has managed Team USA in both the Baseball World Cup and World Baseball Classic and has served as a senior advisor to the Nationals since 2009.
Here's the thing: If Johnson had wanted to continue managing after the Dodgers, he could have. He chose to walk away from the game and could have had his pick of many openings in the years that passed. In fact, he was linked to the Orioles back when they had a vacancy in 2007, a position that ultimately went to Dave Trembley.
If Johnson doesn't agree to man the bench, there are two other front-office employees who have managed in the past: Bob Boone and Bob Schafer, to ask, the
Post
notes.
As part of the speculation surrounding Riggleman's resignation has been the idea that Washington is looking for a bigger name to be manager. Johnson would certainly be that guy.
For more baseball news, rumors and analysis, follow @cbssportsmlb on Twitter or subscribe to the RSS feed.