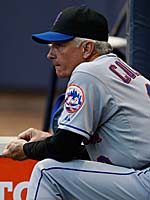 By Matt Snyder
Mets
manager Terry Collins has guided his ballclub to a 39-39 record, despite ownership turmoil, constant trade rumors and several key injuries. They just took two of three in Texas from the defending AL Champion
Rangers
and are only five games behind the
Braves
for the NL Wild Card. But none of that is why we're talking about Collins right now.
Sunday, in an eventual 8-5 Mets win, the Rangers had several close calls go against them and were yelling at the umpires throughout the game. Manager Ron Washington was ejected. Then, the umpiring crew gave Collins a choice of which Rangers player would be ejected because of the general complaining coming from the entire team. He chose
Elvis Andrus
, the Rangers usual starting shortstop who was sitting out due to a wrist injury. He reportedly did so as an act of sportsmanship (
ESPN Dallas
), even though he wanted the umpires to toss hot-hitting
Michael Young
.
"I wanted [Young] out," Collins said (
AP
). "I was tired of watching Young hit the ball out of the ballpark. And that's who it was [doing most of the yelling], too."
Sure, it's probably the same move every other manager would have made, but Collins still went through with it. He easily could have chosen Young or big bopper
Nelson Cruz
. Instead, Collins picked the guy who wasn't going to see the field anyway. He deserves kudos for that.
For more baseball news, rumors and analysis, follow @cbssportsmlb on Twitter or subscribe to the RSS feed.