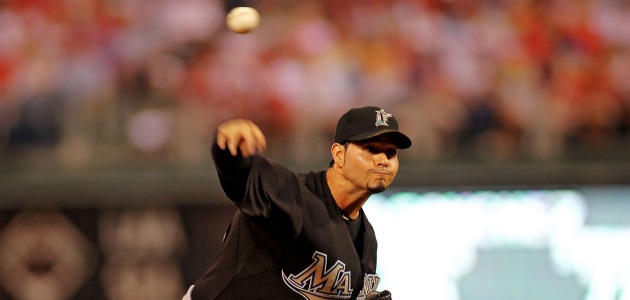 By Evan Brunell
The Rockies were supposed to have a deep rotation with Ubaldo Jimenez, Jorge De La Rosa and Jhoulys Chacin all playing integral roles with Jason Hammel and Aaron Cook serving as capable back-of-the-rotation starters.
Except Jimenez has been touch-and-go, De La Rosa was lost to Tommy John surgery earlier in the season and despite Hammel's strong 4.13 ERA, his peripherals have taken a step back. That's required Cook and Juan Nicasio to play more prominent roles and to no one's surprise, they aren't quite delivering. That's led Colorado to start poking around the starting pitching market, the Denver Post reports.
If Cook and Nicasio can turn their seasons around, Rockies GM Dan O'Dowd could dial back his pursuit of a starter, but that's unlikely. The problem facing Colorado is that the market is thin. There are many teams still in the hunt for a postseason spot which narrows the pool of candidates. That jacks up the prices of pitchers who could be traded.
The Post names Wandy Rodriguez and Brett Myers as two pitchers the Astros will discuss. Affecting Houston's flexibility is the fact that new owner Jim Crane is not expected to take over the team by the trade deadline. That's a tough job for GM Ed Wade. The Astros need to rebuild, but can the club really engineer a rebuilding effort before Crane officially takes over?
Carlos Zambrano remains perpetually available, but the most attractive pitcher on the market has to be Anibal Sanchez. While the 27-year-old isn't available just yet, the thinking is that he could be traded if the Marlins continue sinking into the abyss. The right-hander makes $3.7 million and will enter his final year of arbitration after the season. No wonder he's available from the tightfisted Marlins club.
If Sanchez does indeed become available, he'll likely be the best pitcher available, more so than Rodriguez. While shoulder issues have plagued Sanchez over his career, he's also posted a 2.62 ERA over 16 starts and made a full 32 starts last season with a 3.55 ERA. His health may be a risk, but he's got 300 1/3 innings over the last year and a half that speaks to his recent durability. The chance to acquire a frontline ace is rare, and Sanchez is pitching like one this season. There won't be any shortage of contenders, and the Yankees especially would likely love to get their hands on the ex-Red Sox prospect.
For more baseball news, rumors and analysis, follow @cbssportsmlb on Twitter or subscribe to the RSS feed.