By Evan Brunell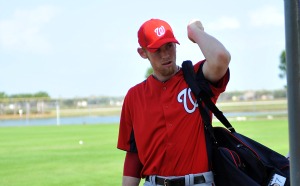 Stephen Strasburg
threw 20 fastballs in a bullpen session on Monday, the first time Washington let Strasburg "let it go," he said according to
MASNSports.com
.
"Today was the first day they allowed me to let it go, and that's the hard thing about Tommy John rehab," Strasburg said. "You can feel great, but you don't really know what's going on inside there. You have to listen to the people that have gone through this before. I'm following it to a T. I'm not going to do anything stupid that's going to jeopardize the rest of my career."
Strasburg topped out around 80 mph by the estimation of the reporter in attendance, who also noted that the No. 1 overall pick in the 2009 draft had the same "audible hiss" that his fastball usually has, although he was lacking in command. That's a common occurence for players recovering from Tommy John surgery, and will continue to be for a while.
While Strasburg has to watch from the sidelines as the
Nationals
continue their surprising run of a .500 record and would love to be part of it, he admits that he's grown up both physically and mentally while being sidelined. That's helped him cope with the daily grind of being separated from the team and taking things one step at a time.
"I've learned how to be more of a professional," Strasburg said. "You hear all these things about how hard
Roy Halladay
works -- going to the field early, using his program and having it be so structured, he knows what he has to do every single day. I hope one day people look at me like that. I want to be that guy that is known for being the hardest worker -- not necessarily the best player, but the hardest worker. ... I've put a lot more emphasis on it. Just physically, I've matured a lot. I think I still have a ways to go."
The pitching phenom also opined on Davey Johnson, Washington's new manager. While Strasburg may never get the chance to play for Johnson, the hire received a strong endorsement from Strasburg:
I just remember how he treated me like one of the other guys, where I really didn't feel like one of the other guys. I was the only college kid on that [Olympic] team, and I think he really made a point to make me feel comfortable out there. That was a big jump for me. I'd never started before, and I threw 97 innings in college, and I was right around 55 for the summer. I went out to pitch against Cuba in the last game, and I threw a ton of pitches. I think we were winning 3-2 and he takes me out in the fourth. I just remember him saying, 'You've got a long career ahead of you, and there's no reason to risk it out here.' That was the game to get to the gold medal game. Even in that sense, when he had no ties to me, he was really looking out for my best interests. I thank him for that, and I'm really looking forward to playing for him.
For more baseball news, rumors and analysis, follow @cbssportsmlb on Twitter or subscribe to the RSS feed.