By Evan Brunell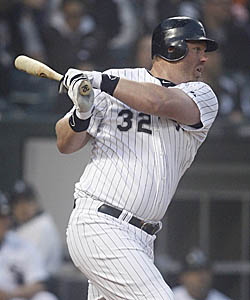 On Sunday, both skipper Ozzie Guillen and GM Ken Williams met with slumping DH
Adam Dunn
to encourage him of their confidence. Now, Williams has come out with a strong endorsement, the
Chicago Tribune
reports.
"If you look at his timeline since he's been in the big leagues, it's a pretty damn good body of work," Williams said, pointing to Dunn's 361 home runs in 11 seasons and overall .247/.377/.512 line. "What he's going through now, when it is said and done, will be a little blip on that line."
Dunn's .173/.308/.316 line on the year is positively anemic, with his plate discipline the only thing saving him from statistically being one of the worst hitters in the game. (As it is, according to
one metric
, Dunn is 18th worst. Hey, Dunn needs every silver lining at this point.) Fellow Eye on Baseball scribe
Matt Snyder detailed
Dunn's struggles at the plate, noting that the left-hander simply looks "mentally whipped."
"I told him I do not regret the decision [to give Dunn a $56 million contract] in any way, shape or form," Williams added. "I believe we needed him, I believed it when we got him and I still believe he will play the major part we thought he was going to. It just hasn't turned out to this point.
"His problem is he cares so much and he wants to make an impression on the people of Chicago. As soon as he gets back to being Adam Dunn and puts it out of his mind, he's going to be the player we all thought he was. Ability doesn't just go overnight. I would make the same move tomorrow again."
For more baseball news, rumors and analysis, follow @cbssportsmlb on Twitter or subscribe to the RSS feed.