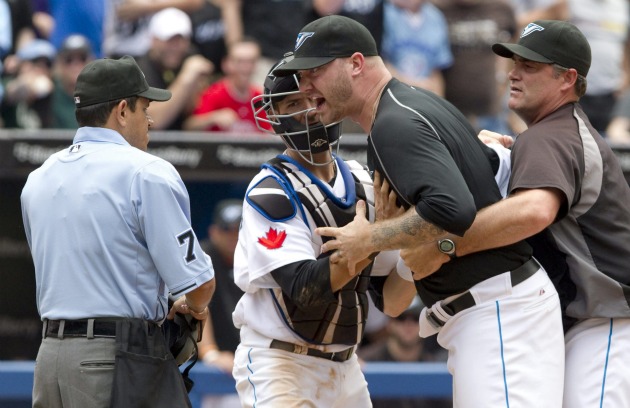 By Evan Brunell
Jon Rauch
just had a meltdown for the ages after being ejected by umpire Alfonso Marquez, tossing aside manager John Farrell much like one sweeps that annoying bug out of your face.
Rauch and Farrell were upset with Marquez's strike zone, especially against lefty slugger
Ryan Howard
in the ninth inning on two particular pitches. Howard walked to push
Chase Utley
, who had reached base on a fielder's choice, to second. Utley then scored on a
Shane Victorino
RBI single, with
Corey Patterson
's valiant throw pulling
J.P. Arencibia
off home plate to the first-base side. A diving Arencibia missed the tag on Utley, and Marquez correctly signaled that Utley was safe, pushing the
Phillies
' lead to 5-3 in a seesaw game that saw
Roy Halladay
eventually pitch a complete game. Rauch was not pleased with the call and immediately turned to Marquez, pointed with his glove and said something.
Whatever he said earned an immediate ejection, and that's when Rauch exploded. Farrell, who was already on the way out of the dugout to argue the call, got in front of Rauch, but Rauch flicked Farrell to his left and went after Marquez. Farrell valiantly tried to hold onto Rauch and drag him away but succeeded in only depriving the 6-foot-10 reliever of his uniform. Arencibia served as a buffer and Rauch eventually stalked off to the dugout.
That left Farrell a little unnerved, and he walked back to the dugout before turning around and heading to the mound to talk to reliever
Shawn Camp
, who had just jogged in from the bullpen without warming up. On his way back to the dugout, Farrell had more words for Marquez who lost patience and sent Farrell to join Rauch in the showers.
Farrell then ran to home plate and drew lines with both of his hands just to the right of home plate, in the batter's box of where a left-handed hitter would stand, apparently contesting the calls against Howard before departing. It appeared as if Rauch and Farrell had a case, as the strike zone display on television showed Rauch was being squeezed on pitches that Halladay was getting called strikes.
Camp mopped the inning up without incident, then Halladay shut down his former team in the ninth to register a three-run complete game victory, walking one and striking out eight. It was Halladay's homecoming, and the crowd gave him a standing ovation during pregame warmups and prior to the start of the bottom of the first as he walked to the mound.
Check out the video at MLB.com
.

For more baseball news, rumors and analysis, follow @cbssportsmlb on Twitter or subscribe to the RSS feed.