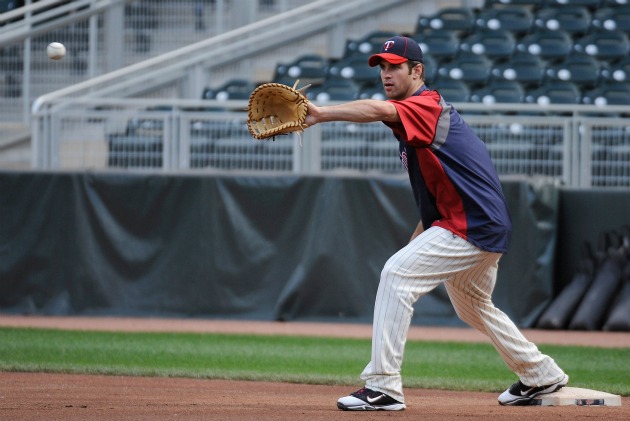 By C. Trent Rosecrans
Joe Mauer's debut at first base is coming any day now, the Minneapolis Star Tribune reports.
Mauer's been taking ground balls and making throws from first base, but is at the point where he needs to play games there to really learn the position, he told the newspaper.
Mauer nearly played first in Saturday's loss to the Brewers to give Luke Hughes' sore knee a rest, but Hughes felt good enough to play, allowing Mauer to DH. He is expected to catch in Sunday's series finale against Milwaukee. The Twins start a series against the Rays on Monday afternoon and that could be the first time Mauer starts at first.
"He's going to get out there [at first base] pretty soon," Gardenhire said, according to the newspaper. "I think he's pretty much ready to go out there, any time we say let's go do it."
Mauer has improved his averaged from .186 to .241 after a seven-game hitting streak, including single in four at-bats on Saturday. Overall, he's hitting .241/.289/.289 and still looking for his first home run of the season.
Mauer went on the disabled list in mid-April after suffering from bilateral leg weakness before returning June 17. Mauer managed just three hits in his first seven games back, before starting his current hitting streak.
"The leg that I've had problems with is my back leg," Mauer said. "So that's kind of what I was having a tough time doing is staying back on my back leg, driving the ball. So it's getting better, and I'm feeling better at the plate."
The Twins are hoping he'll feel better more often if he's not behind the plate.
For more baseball news, rumors and analysis, follow @cbssportsmlb on Twitter or subscribe to the RSS feed.