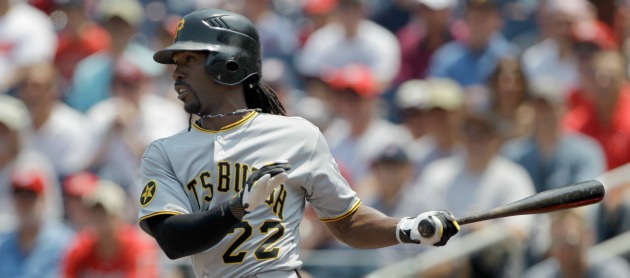 By C. Trent Rosecrans
Many years on the day that the All-Star teams are announced, people bemoan the fan voting and selections that pick big names over deserving starters. This year won't be one of those years because for the most part the fans made good picks, as CBSSports.com senior writer Danny Knobler points out the fans and players agreed on 14 of the 17 selections. The lone starter that is obviously not worthy is Yankees shortstop Derek Jeter, who is expected to come off the disabled list on Monday. Jeter's hitting just .260/.324/.324 so far this season, but he's still Derek Jeter -- not to mention his chase of 3,000 hits.
But no matter how many deserving players make the game, with a roster of 33 (plus another to be added, but even those on the 34th man ballot are eligible for our team, because four of those five won't be voted in) there are deserving players who won't be making the trip to Phoenix.
So here you go, the CBSSports.com All-Snub team:
C: Speaking of the fans getting it right, this is one position where the deserving player was voted in for both leagues, Detroit's Alex Avila and Atlanta's Brian McCann. With the Yankees' Russell Martin, Baltimore's Matt Wieters and St. Louis' Yadier Molina, the five most deserving players at the position are headed to Phoenix. The best of those left out is already in Phoenix -- the Diamondbacks' Miguel Montero, who is hitting .270/.344/.457 with nine homers.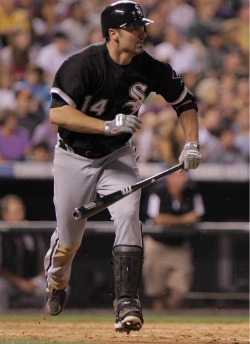 1B: This position is so loaded that it's almost as tough picking its All-Snub member as it is the All-Star representatives. The fans got it right with Adrian Gonzalez and Prince Fielder, while Albert Pujols sits at home during the break for the first time since 2002. Both Mark Teixeira and Paul Konerko have strong cases for the All-Snub pick, and in the end I'm going to go with Konerko, who is hitting .317/.387/.567 with 21 homers by a nose over Teixeira and his 25 homers.
2B: Robinson Cano's 2011 hasn't equaled his 2010 and wouldn't be my pick at second base in the American League, but it's hard to get worked up and say the fans got it wrong on a guy hitting .292 with 14 homers at second base. The All-Snub representative is tough here, with the choice between the Rays' Ben Zobrist (.261/.347/.463) and Dustin Pedroia of the Red Sox (.277/.391/.406). Because I like speed, I'll take Pedroia and his 15 steals and higher walk rate, but just by a tad. Zobrist is on the 34th man ballot, so he's still got a chance. Apologies also to the Nationals' Danny Espinosa who has 15 homers already.
SS: We've discussed Jeter, but let's just acknowledge the fans noticing Jose Reyes -- even though it'd be tough to call yourself a fan and not notice what Reyes has done. The All-Snub goes to Jhonny Peralta of the Tigers, who is having a fabulous season, hitting .311/.359/.538 with 14 homers and solid defense to go with it.
3B: Arizona's Ryan Roberts wasn't even on the ballot, but he's had a fantastic first half of the season, hitting .251/.338/.430 with 10 homers and 12 stolen bases. He's a terror on the basepaths and has been one of the best all-around players at the position. Kevin Youkilis has better offensive numbers -- including 56 RBI -- but defensively he's played much like a first baseman playing at third. San Diego's Chase Headley has had a good season as well, but his glove also holds him back.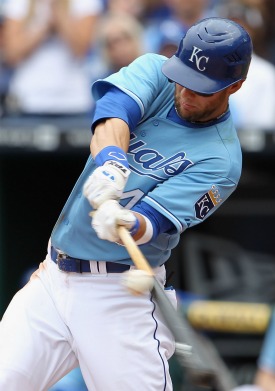 LF: You could certainly have made a case for Kansas City's Alex Gordon as a starter in the American League. Gordon came into the season as yesterday's news, a failed top prospect in the way of the Royals' youth movement. However, he's been the Royals' best player so far this season, hitting .301/.368/.491 with 10 home runs.
CF: I still can't believe Andrew McCutchen's name wasn't on the All-Star list, he's the best all-around center fielder in the game. He's hitting .289/.390/.493 with 12 home runs and 15 stolen bases while leading the surprising Pirates to their first winning record in years.
RF: I'm fudging here, because the All-Star Game often has outfielders playing out of their normal spots, and here I'm going with the Phillies' Shane Victorino. The Phillies lineup as a whole has struggled for production and consistency, but Victorino has given them both. He's hitting .299/.371/.515 with nine home runs and 34 RBI. He's also a very good defender.
DH: You want some roster flexibility? You get it with this DH, who can also serve as a backup catcher -- oh, and Victor Martinez can bash. Martinez is hitting .335/.383/.490 with six home runs.
Starting pitcher: This one is interesting, because I'm going to exclude CC Sabathia, who not only didn't want to be selected, but will also ineligible to pitch in the game when he starts next Sunday. With Sabathia out of the way, I'm going with the Braves' Tommy Hanson, who is 9-4 with a 2.62 ERA in 15 starts, with more than a strikeout an inning and a league-low 6.2 hits allowed per nine innings.
Middle reliever: These guys are used to being overlooked, but that's not to say they aren't worthy. Since Braves' setup man Jonny Venters was named an All-Star, I'm going with David Robertson of the Yankees. Only in middle relief can a Yankee go unnoticed, but Robertson has been fantastic this season. In 33 1/3 innings this season, the right-hander is 1-0 with a 1.08 ERA, striking out 53 batters in 33 1/3 innings of work. He's allowed just four earned runs this season in 36 outings.
Closer: While Atlanta's Venters was recognized, his closer, Craig Kimbrel, was not. Kimbrel leads the majors with 24 saves and has a 2.57 ERA. He's struck out 67 batters in 42 innings, with 18 walks.
For more baseball news, rumors and analysis, follow @cbssportsmlb on Twitter or subscribe to the RSS feed.