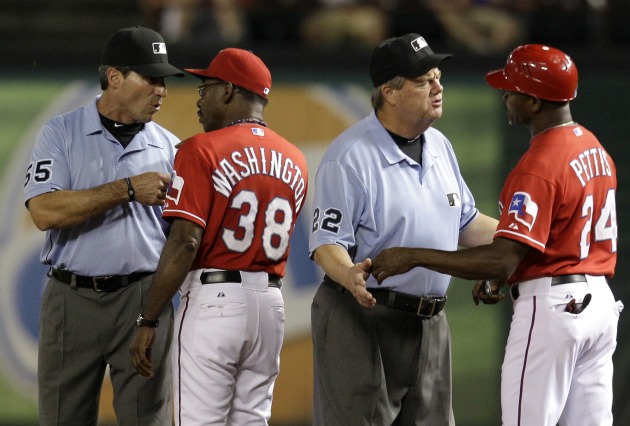 By C. Trent Rosecrans
Fines be damned, Rangers manager Ron Washington and Braves third baseman Chipper Jones expressed their frustration with umpiring Sunday.
Washington's target was Angel Hernandez, known far and wide as one of the worst umpires in baseball. After Washington and first-base coach Gary Pettis were ejected arguing that Florida reliever Mike Dunn had balked.
"Angel is just bad," Washington told reporters (via the Dallas Morning News). "That's all there is to it."
Probably adding insult to injury is that Hernandez is on the same crew as Joe West, another notorious umpire.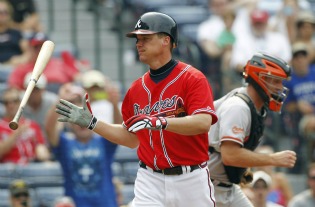 While his specific beef was with rookie umpire Mark Ripperger, Jones took on the state of umpiring as a whole in his postgame comments, from the Atlanta Journal-Constitution:
"I've said it time and time again, the officiating in this league is substandard for the most part," Jones said. "I actually apologized to [Ripperger] after the 3-1 pitch, I said, 'I'm sorry. That pitch was right where the 2-1 pitch was and it was called a ball.' And he said that ball got plate.
"I knew that I was dealing with a larger than average strike zone at that point."
Jones tried to take first base twice in the at-bat, but Ripperger called the pitches strikes and Jones struck out to end the Braves' loss to the Orioles.
"I didn't say a word after the last pitch," Jones told reporters. "I know they are balls. I've been here 18 years, [and] I know what balls and strikes are. I know when guys are trying to pitch around me. He can stare me down all he wants; he made two bad calls."

Jones also said, "I guess it was a little too hot; [he] had to get on a plane."
Jones' manager had his back: "I came back in here and looked at them on video; I thought they were awful," Fredi Gonzalez said. "I thought the balls were away, not even close. It's hard to lose a game on those two balls like that."
All three will be fined, but I'm not sure any of them care. In fact, Jones said as much afterward.

"I'm going to stick up for my team, if a guy's not going to do his job, I'm going to say something," he said. "If I get fined, I get fined. I don't care."
For more baseball news, rumors and analysis, follow @cbssportsmlb on Twitter or subscribe to the RSS feed.