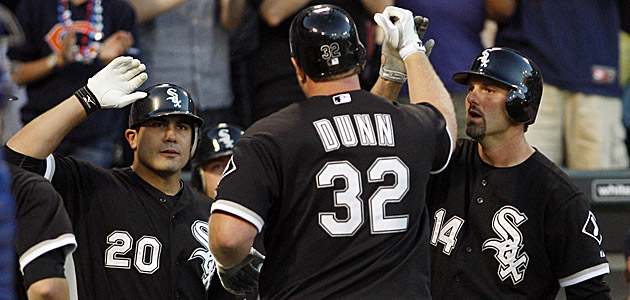 By Matt Snyder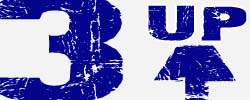 Adam Dunn, White Sox.
Maybe the 4th of July will go down as the day Dunn got things together in 2011. He's still only hitting .171 and did strike out once, but Dunn was 2-4 with two RBI Monday. He connected on a two-run homer to tie the game in the eighth inning and then was at the plate in the bottom of the ninth when the White Sox won via walk-off balk (more on that below). If Dunn can regain some confidence from this game, it would do wonders for getting his season out of the gutter.
Alex Presley, Pirates.
The rookie outfielder has been piling up hits for the Pirates since his promotion. Monday, Presley was 3-4 with a triple, RBI and a walk. He's now hitting .364 and more than filling the shoes of injured leadoff hitter
Jose Tabata
for the Pirates, who are now only 1-1/2 games out of first place in the NL Central.
Rangers offense.
Sparked by three hits from both
David Murphy
and
Michael Young
-- who was a home run short of the cycle -- the Rangers pounded the
Orioles
' pitching staff for 13 runs and 18 hits. They had seven doubles, a triple and two homers. Every starter except
Elvis Andrus
collected a hit and seven players had multi-hit games. The production enabled the Rangers to win and hold on to a first place tie with the
Angels
.
---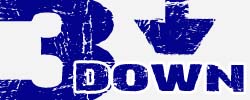 Aaron Crow, Royals.
Just a day after finding out he made the All-Star team, Crow had an awful rough outing. The Royals' setup man lost the lead in the eighth on the aforementioned Dunn home run and then lost the game in the ninth when he balked home
A.J. Pierzynski
. Pierzynski got on base with a single, was sacrificed to second and advanced to third on a wild pitch from Crow. This loss falls squarely on Crow's shoulders.
Carlos Marmol, Cubs.
Marmol entered the game in the bottom of the 10th with a tie game and
Jayson Werth
on second base. Marmol was summoned because
Marcos Mateo
was injured and had to leave the game. Marmol needed only five pitches to lose the game. First, he paid zero attention to Werth at second, which allowed Werth to steal third base so easily that Cubs' catcher
Geovany Soto
didn't even bother to throw to third. Then, on Marmol's fifth pitch, he uncorked his first wild pitch of the season, which allowed Werth to score. Yep, a walk-off wild pitch and walk-off balk in the same day.
John Lackey, Red Sox.
Lackey was very solid last time out, but failed to build upon it one iota Monday. He lasted only 2 1/3 innings, giving up nine hits and seven earned runs. His ERA is now back up to 7.47. The good news, Red Sox fans, is that he's only signed through 2014.
For more baseball news, rumors and analysis, follow @cbssportsmlb on Twitter or subscribe to the RSS feed.