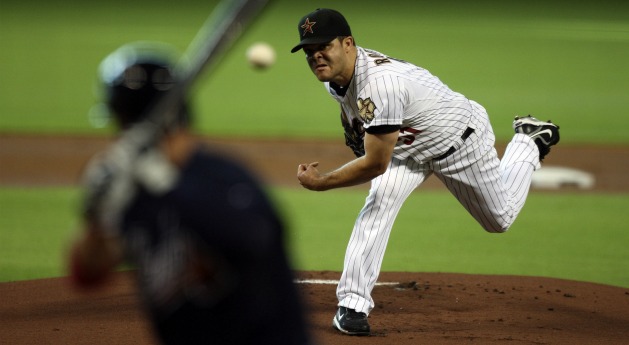 By Evan Brunell
The Houston
Astros
are in a bit of a sticky situation.
Incoming owner Jim Crane has yet to officially assume control of the club, and until he does, cannot and will not be publicly involved in the team's maneuvers, as
Fox Sports reports
. That approval is not likely to come until the next owner's meetings, which take place Aug. 17-18.
"The owner definitely will have a voice at the deadline regardless of whether they have transferred [ownership] officially," a rival executive said. "No way he won't have a voice. [Outgoing owner Drayton] McLane will make sure of that. He will want the guy who is buying the club to have a voice."
That leaves Houston in limbo for the trade deadline, as Crane rightly deserves to influence the team's future. Despite the ability to make his opinions known privately, Crane will be working with one hand tied behind his back. In addition to being unable to wield complete power over the trading deadline, Crane has to work with a GM that he did not hire. While Crane is widely expected to fire Ed Wade eventually, that won't come until he can both assume control and evaluate Wade's work. Wade is in a sensitive situation, as he has to pull off the best possible deal he can for his incoming owner to save his job.
McLane has resisted for years the call to rebuild, hoping to recapture the glory of winning the 2005 NL pennant. The 'Stros have been in need of a rebuild for a few years, so they're already behind the eight-ball and boast no true superstar on the team, several solid players and a farm system
ranked No. 26 by Baseball America
. That's a tall task that no one trading deadline can fix, but Wade and Crane can begin the process.
The Astros' best player,
Hunter Pence
, isn't expected to go anywhere. While his current stature as an important part of Houston's future can always change, the fact remains that he is currently the face of the franchise and is under control for two more seasons. It would not make sense for the incoming owner to kick off his tenure in the eyes of fans by trading Pence; at least not yet.
That leaves
Wandy Rodriguez
as the next-best player available, although
Michael Bourn
,
Brett Myers
,
Jeff Keppinger
and anyone not named Pence and starting pitchers
Bud Norris
and
Jordan Lyles
will be considered. Rodriguez has quietly become one of the best left-handed starters in the league and boasts a long-term deal through 2013 with a club option that converts to a player option upon trade. With a total package of $34 million due Rodriguez from the start of 2011, it's an affordable deal for a big impact that many teams can take on.
How big of an impact can Rodriguez have, though?
A pretty big one. As Ken Rosenthal points out, Rodriguez's 2.44 ERA since June 23, 2010 is the second lowest in the majors behind
Felix Hernandez
's 2.36. Trailing Rodriguez are
Jered Weaver
and
Roy Halladay
at 2.45 apiece, with
Cole Hamels
rounding out the top five at 2.49. What team wouldn't like to have an affordable left-hander who ranks among the best in the game?
You can bet the
Yankees
are interested. GM Brian Cashman likes to talk game about how he doesn't need to upgrade his rotation. At first blush, you can't blame him.
CC Sabathia
, All-Star selection or not, is an ace.
A.J. Burnett
has a big-money deal and big upside.
Phil Hughes
could be the ace of the Yankees in a couple years, so he gets a spot.
Bartolo Colon
, thanks to a stem-cell rejuvenated shoulder, is pitching the best he has in years while
Freddy Garcia
somehow is on pace for a career-low ERA. Heck, they're deep to the point that Ivan Nova was just demoted to Triple-A despite a 4.12 ERA in 16 starts.
But let's look at that list again. Sabathia is fine. Burnett runs hot or cold and posted a 5.26 ERA last season. Hughes just got past a baffling case of decreased velocity, and it's anyone's guess if he can last long-term, while Colon and Garcia were scrap-heap pickups for a reason. Also, and there's a reason that the Yankees chased
Cliff Lee
so hard and really want a second left-hander. That's crucial in a division stacked with imposing left-handed hitters, especially in Boston.
If the Yankees see a deal for Rodriguez, they will pounce. There are plenty of other suitors chasing starting pitching, though, starting with the
Tigers
but extending to virtually every other team in the majors. Houston won't have a problem moving Rodriguez, but may find the going a bit tougher with Brett Myers.
Myers joined the Astros last season after eight up-and-down years with Philadelphia. He broke out last season with a 3.14 ERA in 223 2/3 innings, but an increased allowance in home runs has mostly accounted for this year's backsliding to a 4.67 ERA. All told, Myers is who he is, which is a solid No. 3 capable of putting up an ERA in the 4.00-4.50 range. He does have value as he makes $7 million this season, $11 million the next and then the club can pick up a $10 million option if they so choose. He simply has less value because he's being paid commensurate value and it's a lot easier to find a No. 3 or 4 starter than it is a No. 1 or 2, which Rodriguez is.
Another player that could be on the move in Houston is Michael Bourn, who has a rising price tag, is a free agent after 2012 and boasts Scott Boras as his agent. Bourn's value is probably at its highest right now; he's been consistent the entire year and boasts a career-best .290/.354/.402 line at age 28, leading baseball with 35 stolen bases. Even better, he's only been caught four times, so he has serious value on the basepaths. Add in being perhaps the best defensive center fielder in the game and you have a knockout package for a team looking for the perfect leadoff man.
The
Nationals
are seeking a long-term center fielder and need a leadoff hitter in the worst way. Bourn fills both categories, and the specter of Boras as agent won't bother the Nats; the team has a close working relationship with Boras and often drafts or signs his players. Other teams that could use Bourn to varying degrees are the
Athletics
,
Blue Jays
,
Braves
,
Brewers
,
Dodgers
,
Marlins
(yeah, right),
Padres
and
Rangers
. Of that list, the teams that seem to have the best fit are the Jays, Braves and Brewers.
The Astros are in a challenging situation moving forward, as they clearly need to be rebuilt. Even an incoming owner with public relations issues to be concerned about has to see the situation in Houston for what it is. That makes it extremely important for Crane to communicate his intentions clearly, for Wade to not only see through Crane's wishes, but to extract a deal that solidifies both Houston's and his future.
For more baseball news, rumors and analysis, follow @cbssportsmlb on Twitter or subscribe to the RSS feed.