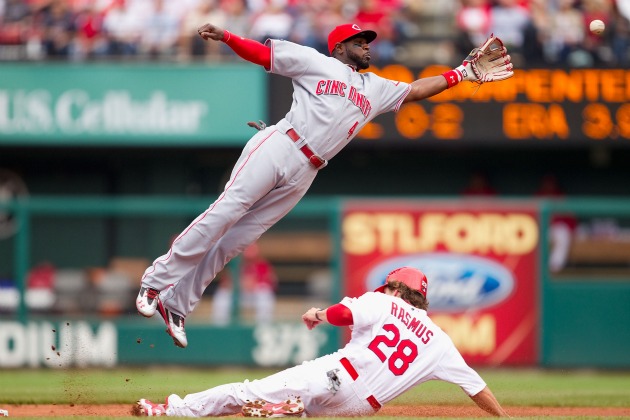 By Evan Brunell
On July 6, 2011, the baseball standings looked like such:
| | | |
| --- | --- | --- |
| AL East | AL Central | AL West |
| Yankees, +120 | Indians, +12 | Rangers, +33 |
| Red Sox, +90 | White Sox, -5 | Angels, +13 |
| Rays, +72 | Tigers, -7 | Mariners, -3 |
| Blue Jays, +2 | Royals, -52 | Athletics, -14 |
| Orioles, -72 | Twins, -69 | |
| | | |
| --- | --- | --- |
| NL East | NL Central | NL West |
| Phillies, +72 | Cardinals, +28 | Diamondbacks, +10 |
| Braves, +53 | Reds +27 | Giants, +7 |
| Mets, +16 | Pirates, +6 | Rockies, -1 |
| Nationals, -2 | Brewers, -2 | Padres, -27 |
| Marlins, -59 | Cubs, -76 | Dodgers, -42 |
| | Astros, -98 | |
Keen eyes will notice some teams are not in their rightful place (the
Reds
, for example, are actually in fourth) and that instead of a record and games behind, a simple plus/minus rating is used. This is called run differential, and is simply the difference between runs scored and allowed. This is actually a better barometer to judge a team's play instead of a simple record, especially during the season as run differential will win out over a full 162 games.
There are two key reasons why.
Strength of the division matters. The
Blue Jays
are stuck in a hard place, with a quality club that currently resides in fourth place in both record and run differential despite outscoring opponents by two runs. In the AL Central, the Blue Jays would have been in second place behind Cleveland via run differential. This mark allows us to compare team quality across divisions and somewhat control for the imbalanced schedule. I say "somewhat" because in intra-division games, someone's still has to lose, and Toronto's born the brunt of that. If the Jays were actually in the AL Central, odds are their run differential would be higher, if not better than Cleveland's.
The second reason why run differential is a better barometer to judge a team's effectiveness is the same reason why
xFIP is better than ERA
; run differential and xFIP give a better look at the underlying things a team or player can most directly control as opposed to simple wins or losses that can be affected by a whole host of things, such as an umpire. Take the Blue Jays, for example. Should a blown call at home plate that sent Toronto to 42-45 on the season really have any bearing as to how good the club is? Outscoring opponents by two runs is a better indicator.
What does run differential tell you?
Well, let's go through the standings above that don't jive with the
current standings entering Wednesday
.
The AL East and West stay intact, but instead of the ChiSox trailing Detroit by two games for second place in the AL Central, Ozzie Guillen's team jumps into No. 2 with the
Tigers
sliding down to No. 3, but just barely. Only two runs separate the two teams. Kansas City, meanwhile, is quite unlucky to be in the basement despite having a better run differential than Minnesota by 17 runs.
What does run differential in the AL Central tell you?
That the
White Sox
and Tigers are pretty evenly matched, but the
Twins
still have a longer way to go than they may think to become relevant. (Of course, there's the possibility that the Twins are simply a much better team now than they were in the spring, which run differential doesn't account for -- but neither does wins and losses.)
Over in the National League, the NL East is intact, but the disappointing Reds jump all the way from fourth place to second, leapfrogging Pittsburgh and Milwaukee (who each move down a respective spot) by a large margin and trailing the
Cardinals
by a scant run. The Reds are under .500, but they really should be neck-and-neck with the Cards, so don't be surprised to see a second-half surge out of Cincinnati.
Out West, the
Giants
hold a one-run lead, but Arizona tops San Francisco in run differential by three runs, so this is just as tight a race as it is off win-loss records.
Last year, the only notable disparity in run differential had the
Yankees
outlasting the
Rays
for the division title even though Tampa Bay took it home with a one-game lead in actuality, with New York taking the wild card. A couple of other differences had the
Mets
deserving to finish in third instead of fourth, with a two-run difference over Florida which isn't enough to get worked up about. The
Cubs
, meanwhile, markedly outperformed the
Astros
in run differential, but Houston edged Chicago by one game to finish fourth. Again, not a huge deal. There were no other teams that didn't finish where they should have.
It's more of the same in past years -- a couple of exceptions here and there, but by and large, run differential at the end of the season lines up nicely with a final record. That's great news for Reds fans.
For more baseball news, rumors and analysis, follow @cbssportsmlb on Twitter or subscribe to the RSS feed.
PHOTO:
Colby Rasmus
#28 of the St. Louis Cardinals steals second base against
Brandon Phillips
#4 of the Cincinnati Reds at Busch Stadium on April 23, 2011 in St. Louis, Missouri.