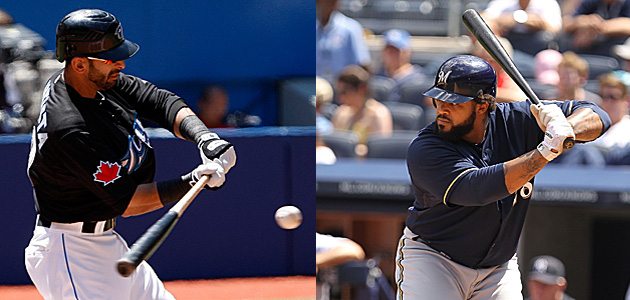 By Matt Snyder
Because we like to have fun, we're going to put together an All-Star team of players 30 and older and pit it against a team of players who haven't yet hit the 30-year-old plateau. Without going back and looking, it feels like back in the late-90s and early-2000s -- the stained PED era -- the team of players over 30 would have been chock full of long-time sluggers and power pitchers. Things have shifted a bit now and it feels like a young man's game again. Let's see if this holds true for the 2011 season.
We'll go with two per position, five starting pitchers, three closers and two non-closing relievers -- ending with a starting lineup for each squad. If that's all you're interested in, definitely feel free to scroll down and find the lineups. Selection criteria is on this season's performance, so you'll find some serious studs excluded -- like
Felix Hernandez
. Still, there is plenty of talent to go around, especially the under-30 starting pitchers. But no more hints ...
Over-30
Catcher
: Not that it's shocking, given the physical demands of the position, but it was pretty slim pickings here. There are only a handful of regular catchers over 30, and of those, none of them are real-life All-Star caliber. In fact, my first step in compiling these teams was to go through each roster and just list every name I thought I'd even remotely consider. When initially finished going through all 30 big-league clubs, I had zero names listed here.
Selections
:
Ramon Hernandez
and
A.J. Pierzynski
get the nod over
Jason Varitek
and a few others.
First base
: No shortage of sluggers at this position, even north of 30. I whittled the bunch down to five names:
Mark Teixeira
,
Paul Konerko
,
Ryan Howard
,
Albert Pujols
and
Todd Helton
.
Selections
: No snub for the duo this time around, because I'm going with Konerko and Teixeira. By the end of year, I full expect Pujols to overtake at least one of them, if not both.
Second base
: Only two guys really deserved mention, so it was easy.
Selections
:
Ben Zobrist
and
Brandon Phillips
.
Third base
: This position wasn't too difficult, as four names surfaced:
Alex Rodriguez
,
Kevin Youkilis
,
Adrian Beltre
,
Aramis Ramirez
.
Selections
: A-Rod and Youk.
Shortstop
: Here's another position where the age really seemed to matter. Pop Quiz: What shortstop over the age of 30 has the highest OPS? Answer:
Jamey Carroll
of the
Dodgers
. Seriously. Only three other legitimate (if we can call it that) options surface:
Derek Jeter
,
Jimmy Rollins
and
Ryan Theriot
.
Selections
: We'll give Rollins the start and back him up with Carroll. Carroll's average (.296) and OBP (.365) are very solid for a guy who came into the season as a backup utility man.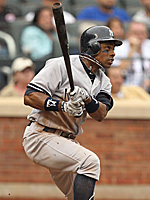 Outfield
: Unlike shortstop and catcher, the guys manning the outfield have seemed to age just fine. We had to leave
Josh Hamilton
and
Shane Victorino
off.
Selections
:
Curtis Granderson
,
Jose Bautista
,
Lance Berkman
,
Matt Holliday
,
Nelson Cruz
and
Carlos Beltran
. It was very tough to take Cruz and Beltran over Victorino and we could argue the merits of the three players all night. It's a toss up and any disagreement holds plenty of water.
DH:
Just like in reality, since most of these guys are aging sluggers, we've got
David Ortiz
and
Victor Martinez
as the top two.
Starting pitchers
: The interesting thing I found here was the lack of depth. Going just on this year's performance -- too little, too late for
Chris Carpenter
, for example -- the top three guys who missed the cut here were
Wandy Rodriguez
,
Ryan Vogelsong
and
Kyle Lohse
. I didn't list any other names in my initial trip through each roster. On the flip-side, I listed
20
on the under-30 starting pitcher brainstorm. But the top five here might well be superior to the top five under-30. It's just top-heavy to look at starters over 30, and that's why many clubs are reluctant to give long-term deals to starting pitchers.
Selections
:
CC Sabathia
,
Josh Beckett
,
Dan Haren
,
Roy Halladay
and
Cliff Lee
.
Relief pitcher
: There's good quality here, but again, not a ton of depth.
Kyle Farnsworth
,
Ryan Madson
and
J.J. Putz
just missed the cut. We're going three closers and two non-closers here.
Selections
:
Mariano Rivera
,
Heath Bell
,
Francisco Cordero
,
Mike Adams
and
Brad Ziegler
.
Starting lineup
1. Jimmy Rollins, SS
2. Curtis Granderson, CF
3. Jose Bautista, RF
4. Paul Konerko, 1B
5. Alex Rodriguez, 3B
6. David Ortiz, DH
7. Lance Berkman, LF (hopefully no one hits it out there)
8. Ben Zobrist, 2B
9. Ramon Hernandez, C
SP: Roy Halladay (tough, tough call and no wrong answer)
That's an impressive lineup, especially the 2-8 slots. Let's see how the young guys stack up.
Under-30

Catcher
: There's lots of good young talent here, and we aren't even looking at
Joe Mauer
this year. We have
Matt Wieters
,
Carlos Santana
and
Miguel Montero
, among others, but the two picks here are the ones the fans just named starters for the real All-Star Game.
Selections
:
Brian McCann
and
Alex Avila
.
First base
: With all due respect to the Morses, Smoaks and Sanchezes of the world, there are only four names to be considered here. It's ridiculous to leave two out, but I have to -- per my own rules.
Selections
:
Prince Fielder
and
Adrian Gonzalez
would possibly win MVPs of their respective leagues if the voting was held now, so they are the picks -- which leaves
Miguel Cabrera
and
Joey Votto
out in the cold.
Second base
: Lots of good, young talent here and we might be listing
Dustin Ackley
and Brett Lawrie here next year, but we're looking at the body of work for 2011. The five names that stand above the rest are
Robinson Cano
,
Dustin Pedroia
, Howie Kendrick,
Danny Espinosa
and
Rickie Weeks
.
Selections
: Cano and Weeks by the slimmest of margins over Kendrick. An absolute coin flip.
Third base
:
Evan Longoria
should be easy here, but he's had a down year. Then again, look around. The best three names I have are
Pablo Sandoval
,
Mark Reynolds
and
Chase Headley
. Reynolds has huge power, but is an error and strikeout machine. Headley is great at getting on base, but has essentially no home run power at this point in his career. Sandoval's played just over half his team's games, due to an injury. Longoria's down, sure, but he's still a solid defender and has shown flashes with the bat.
Selections
: We'll start Sandoval but keep Longoria around as the second selection here. I could certainly see the arguments for Headley or Reynolds, though.
Shortstop
: Again, there's good, young talent up the middle of the diamond. That isn't surprising. We had to leave off the likes of
Starlin Castro
and
Yunel Escobar
.
J.J. Hardy
was a really tough omission, too, but it essentially boils down to a three-man race for the two spots. And with all due respect to the other guys,
Jose Reyes
is an easy start. So it's
Troy Tulowitzki
vs.
Asdrubal Cabrera
. They're pretty close across the board. Where one gives something up, the other gains somewhere else (i.e. Tulo has more power, but Cabrera has more steals). We have another complete toss-up, and while I'd take Tulowitzki moving forward, this a first-half award.
Selections
: Reyes and Cabrera.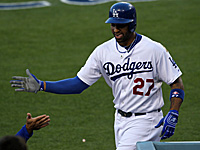 Outfield:
I'm not going to list every name I considered, because it was a very crowded field. Rest assured, I didn't forget anyone. The toughest omissions were
Alex Gordon
,
Hunter Pence
and
Andre Ethier
.
Selections
:
Ryan Braun
,
Matt Kemp
,
Justin Upton
,
Jacoby Ellsbury
,
Carlos Quentin
and ...
Andrew McCutchen
. Clint Hurdle would be pleased.
DH:
Billy Butler
of the
Royals
is the only option, but you know what? Let's say this is the NL team in our faux-game and just pick two hitters from any position to use here. Hmmmm, I think I'll go with Miguel Cabrera and Joey Votto. If we're going to cheat like that -- and I will because I can -- Prince Fielder becomes the DH while Cabrera and Votto both make the team as backups.
Starting pitchers
: As mentioned earlier, this is easily the most stacked position of this entire exercise. Here are five guys who didn't make it:
Jon Lester
,
James Shields
,
Tim Lincecum
,
Tommy Hanson
and
Matt Cain
. Decent rotation, huh? And that's still omitting
Gio Gonzalez
,
Ian Kennedy
,
Michael Pineda
and a host of others.
Selections
:
Justin Verlander
,
Jered Weaver
,
Cole Hamels
,
Jair Jurrjens
and
Clayton Kershaw
.
Relief pitcher
: There's more depth here, as we had to leave out the rocket arms of
Carlos Marmol
,
Drew Storen
,
Fernando Salas
and several more. Again, three closers and two non-closers.
Selections
:
Joel Hanrahan
,
Craig Kimbrel
,
Chris Perez
,
Jonny Venters
and
David Robertson
.
Starting lineup
1. Jose Reyes, SS
2. Adrian Gonzalez, 1B
3. Ryan Braun, LF
4. Prince Fielder, DH
5. Matt Kemp, CF
6. Robinson Cano, 2B
7. Justin Upton, RF
8. Brian McCann, C
9. Pablo Sandoval, 3B
SP: Justin Verlander
So, which team is better? You make the call, but I'm going with the young blood.
For more baseball news, rumors and analysis, follow @cbssportsmlb on Twitter or subscribe to the RSS feed.