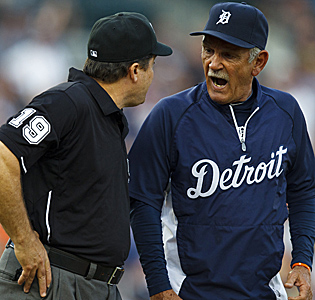 By Matt Snyder
Tuesday night,
Tigers
' manager -- and famed sparring partner of umpires everywhere -- Jim Leyland was ejected by umpire Joe West. It was Leyland's second ejection in the past nine games, the other was courtesy of Ed Rapuano (pictured right). West is no stranger to tossing guys out of games himself.
Justin Verlander
of the Tigers and
Bobby Abreu
of the
Angels
were also ejected during the game Tuesday.
Wednesday, Leyland told reporters that something needs to be done to remedy the league-wide problem of screaming matches between managers/players/coaches and the umpires.
"We have to work harder to eliminate some of the tension," Leyland said, via the Associated Press. "You can feel it. That's just not a good situation. That usually causes blowups."
Leyland did point out that MLB's new executive vice president of baseball operations, Joe Torre, is on the case and that it's the responsibility of all involved.
"I'm not criticizing anybody," Leyland said (via AP). "I'm making the point that we all need to work together to resolve this situation, because it's getting out of hand."
I think most people would agree that there are far too many confrontations between umpires and members of teams. It's funny that people who argue against expanding instant replay don't like delays in the game, however, the screaming matches take far longer than it would to just look at a replay and get the call correct. That might help to solve the problem, but Leyland also has a great point. There is far too much tension.
The players, coaches and managers could surely settle down and not be so quick to start screaming at umpires, but it has to be a two-way street.
I've written about this before when I took West's crew in particular to task
, but I'll reiterate: Baseball is the only major sport where you see the game officials yelling back at anyone. Nothing can be accomplished by responding to a yelling player or manager with equal ferocity. Just let them vent, should be the umpires' stance. The umpires can respond after the game once everyone is calmed down or do so during the game in a calm, quiet voice. Yelling back only escalates the situation. If the umpires kept quiet, quit antagonizing the team personnel and stayed relatively anonymous, we'd all be ready to start giving the respect they very much deserve for doing such a difficult and thankless job.
For more baseball news, rumors and analysis, follow @cbssportsmlb on Twitter or subscribe to the RSS feed.