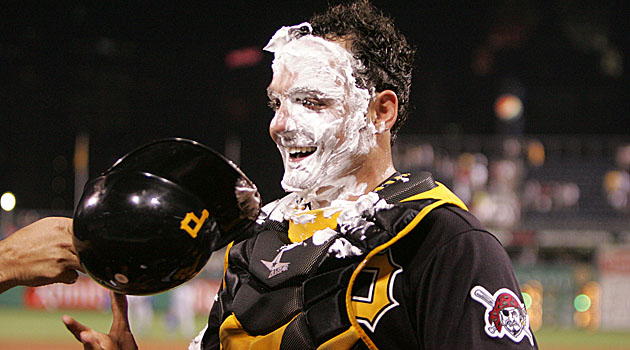 By Matt Snyder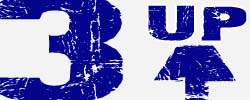 Michael McKenry, Pirates.
McKenry dug into the batter's box against the
Cubs
'
Carlos Marmol
in the bottom of the eighth Friday night with the game tied at four and two men on base. McKenry hit a three-run homer that would be the eventual game-winner. Sure, Marmol is a fickle closer, but he does not cough up the long ball with any semblance of regularity. Check this out: In the past three seasons (coming into Friday night), Marmol had faced 840 hitters and allowed four home runs.
Four!
McKenry had zero career major-league home runs before the at-bat. He does have 69 minor-league homers, but that's in over 2,000 plate appearances. So this was the longshot of the night. Meanwhile, the Pirates would have been tied for first place had the
Reds
not blown a lead in the ninth inning. Still, the Bucs sit a game out of first and had a dramatic victory in front of the home fans.
Travis Snider, Blue Jays.
The Jays had to have felt a bit deflated after losing on a
walk-off grand slam Thursday night
to the
Indians
, but they came back strong with an 11-7 win. Sure, the bullpen tried to blow the game again (it was 8-2 at one point), but the offense was relentless. It pounded out 11 runs on 16 hits.
Rajai Davis
was great, but Snider stood out for me. He went 3-5 with a double, home run, two runs and five RBI. He's been a promising prospect for a while but never really put things together for an extended stretch. Maybe he's doing so now, because he's hitting .409 with five doubles, a home run and eight RBI since resurfacing in the lineup on July 4.
Josh Hamilton, Rangers.
I don't even want to think what he's going through. Had I been the one who tried to toss a ball up into the crowd for a father to give to his young son, and then seen that father plunge to his untimely demise ... well, I don't know. I'm sure I'd keep playing it over and over in my head that had I just not thrown the ball ... Or thrown it higher ... Man, it would be so tough to get past that. It's not Hamilton's fault at all, but it's human nature to start thinking about things like that. He
heard the boy screaming for his Daddy
, for God's sake. How can you get through that? And Hamilton showed up for work Friday and answered all the questions with grace and sensitivity. He played in the Rangers' 8-5 win, too. Kudos to him for keeping himself together and let's hope that continues.
---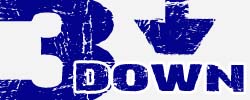 Zach Britton, Orioles.
It would be safe to say the future ace has hit the proverbial wall. Through nine starts, Britton had a 2.14 ERA and easily would have been a Rookie of the Year candidate. He had a quality start next time out. Since then, however, it's been ugly. From May 29 leading into Friday, Britton had a 5.35 ERA and 1.58 WHIP. And then Friday night was a catastrophe. Britton only recorded two outs while allowing six hits, two walks and eight runs. At age 23, and with the Orioles going absolutely nowhere this year, it's worth thinking about optioning him to Triple-A to salvage some confidence.
Brian Wilson, Giants.
I thought people feared the beard? Maybe Wilson needs to just finally give in and shave. Friday night, he entered with a tie game in the ninth inning against the
Mets
. He coughed up a home run to
Scott Hairston
and took the loss. In Wilson's past five outings, he's blown two saves and has Friday's loss. His ERA in those games is 7.20 and twice he's been pulled before finishing an inning on his own. Maybe he's overworked, but the only people fearing this small sample are Giants fans who realize the offense isn't good enough to overcome Wilson faltering.
Padres' offense.
One week ago, almost to the minute, I posted that the Padres
would make dubious history before the All-Star break
. They did Friday night. They have now been shutout 14 times before the All-Star break, which amounts to 15.6 percent of the time they suit up. No team in recent memory has been so futile offensively. The closest match was the 2004 Expos, who were shutout 13 times before the break.
For more baseball news, rumors and analysis, follow @cbssportsmlb on Twitter or subscribe to the RSS feed.