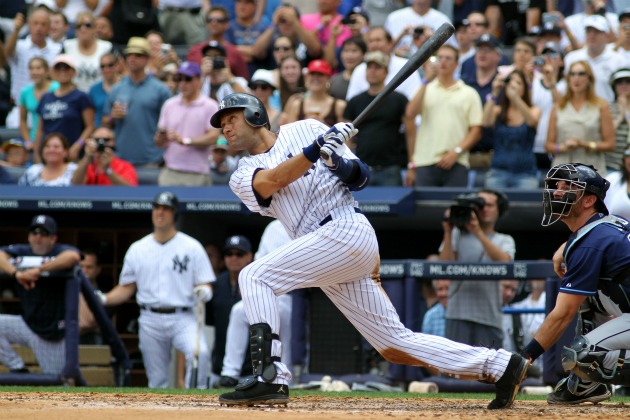 By Evan Brunell
The Jeter Watch comes to an end as the longtime
Yankees
shortstop rifled a home run on a full count from
David Price
into left field for his 3,000th hit, just the second time anyone has ever hit a homer for the milestone that only 27 other players have reached. But Jeter didn't just settle for 3,000, a five-hit day propelled him to 3,003 for his career.
"Hitting a home run was the last thing I was thinking about," Jeter said. "Something I will remember for the rest of my life."
More importantly, his fifth hit was an RBI single to give the Yankees a 5-4 lead in the eighth inning over the
Rays
.
Mariano Rivera
, who made his debut with the Yankees in the same year as Jeter, picked up his 22nd save to give the Yankees the victory on what was Jeter's day in every sense of the word.
In the third inning, Jeter fought Price to a full count in the bottom of the third with one out by looking at a fastball low for a ball, then seeing an outside strike on a breaking ball called. Another low fastball for a ball followed before he rifled a breaking pitch foul. Yet again, he passed on a low fastball for a ball then rifled two straight foul balls before driving the next pitch into the bleachers to become the first Yankee ever to reach the coveted milestone. You can see the pitch breakdown in the graphic on the right, courtesy
MLB.com's GameDay
, with No. 8 signifying the home run.
Watch Jeter's 3,000th hit here.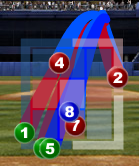 Other than Jeter, only Wade Boggs of the Rays has hit a home run for his 3,000th hit, and Jeter is the 11th player to earn all 3,000 with the same club.
"Congratulations, first of all, to
Derek Jeter
on joining the 3,000 hit club. It is an exclusive honor, achieved by only a select group, that not many people can call their own. It is a monumental achievement," Boggs said in a statement. "I had the opportunity to play with Derek when he was a rookie in 1996, and I had no doubts that Derek would reach this milestone. He is a very consistent player and he never deviated from his game."
As Jeter headed to first,
Casey Kotchman
tipped his cap upon rounding first base in a classy gesture. The Rays, who had voted not to play a split double-header today in what some felt was a gambit to avoid Jeter getting 3,000 against the team, applauded on both the field and bench -- including Jeter's former teammate in
Johnny Damon
-- as the Yankees spent several minutes congratulating Jeter, with
Jorge Posada
, a longtime close friend, embracing him with a bear hug.
"It was tremendous," Jeter's father, Charles, told YES. "I can't describe how I was feeling. ... Very emotional for me, very happy for him."
No. 2,999 had come in the first inning, with a
groundball single to lead off
the game. Prior to Jeter's homer,
Brett Gardner
just narrowly missed a safe call at first on his own groundout, and
Mark Teixeira
followed Jeter with a groundball into left field. It is currently tied 1-1, as Tampa Bay's
Matt Joyce
hit a home run in the second.
Jeter led off the fifth with a double and singled in the sixth before recording his fifth hit in the eighth. It was his third career five-hit game and first since June 21, 2005. He became the second player to have five hits in the same game that he recorded his 3,000th career hit, joining Craig Biggio who had five hits when he joined the club in 2007.
Jeter's milestone hits
Hit
Date
Details
Pitcher
No. 1
May 30, 1995
Single at Mariners
Tim Belcher
No. 1,000
September 25, 2000
Single vs. Tigers
Steve Sparks
No. 2,000
May 26, 2006
Single vs. Royals
Scott Elarton
No. 2,722
September 11, 2009
Single vs. Orioles
Chris Tillman
No. 3,000
July 9, 2011
Home run vs. Rays
David Price
For more baseball news, rumors and analysis, follow @cbssportsmlb on Twitter or subscribe to the RSS feed.