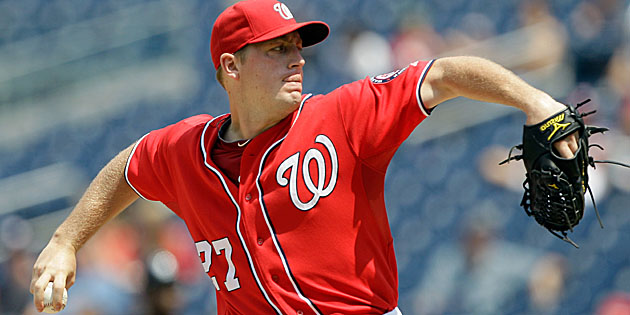 By Matt Snyder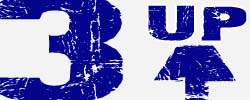 Jordan Zimmermann, Nationals.
There's plenty of hype surrounding what
Stephen Strasburg
can be for the Nationals in the future. He easily projects out as an ace. If he stays healthy and becomes one, the Nationals will have two aces. Zimmermann is already an ace. After working 6 1/3 scoreless innings in a victory Sunday over the
Rockies
, Zimmermann trimmed his ERA to 2.66. His WHIP is now 1.06. And he's only 25. Behind Strasburg, Zimmermann and much more, the future in D.C. is bright.
Andre Ethier, Dodgers.
Apparently he wanted to give himself a going-away present before heading to the All-Star Game. The right fielder hadn't hit two home runs in a game since May 2, 2010, but did so Sunday. In fact, Ethier outscored the
Padres
' offense by himself, as the Dodgers won 4-1.
Marlins.
Maybe it's new manager Jack McKeon, maybe not. We have no way of knowing. What we do know is that the Marlins have completely put that disastrous June behind them. A 5-4 win Sunday over the
Astros
means the Marlins have won five games in a row for the first time all season. They're now 7-2 since dropping a game July 1 and are only six games under .500 for the first time since June 17.
---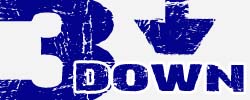 Francisco Cordero/Dusty Baker, Reds.
Pick your poison here, I'm going to let the Reds fans decide who to pin this on. Cordero gave up two hits and walked one, en route to allowing two runs, blowing the save and losing the game. Cordero has now blown three consecutive save chances. Of course, when he took the hill Sunday, it was the fourth time in the past five days he pitched and his third consecutive day on the mound. He is 36, so maybe his arm was tired? For what it's worth, Baker brought Cordero in Saturday night with a five-run lead, so there's where you can find a beef with the possible overuse.
Carlos Carrasco, Indians.
The young pitcher was in an outstanding groove recently, as he had a 0.98 ERA through his last five starts in June. July, however, has been a different story. Last time out, the
Yankees
touched him for 10 hits and six earned runs in four innings. On Sunday, Carrasco lasted three innings, as the
Blue Jays
got to him for seven hits and five earned runs.
Braves pitching:
Ouch. Usually a strength for the Braves, the pitching staff was pounded throughout Sunday's 14-1 loss to the
Phillies
.
Derek Lowe
gave up 10 hits and four runs in his six innings, but the bullpen made that look pretty good.
Cory Gearrin
and
Scott Proctor
were torched by the Phillies' offense, combining for 10 hits and 10 earned runs in the final three innings. The Braves now leave Philly having lost ground and are 3-1/2 out at the break.
For more baseball news, rumors and analysis, follow @cbssportsmlb on Twitter or subscribe to the RSS feed.