By Evan Brunell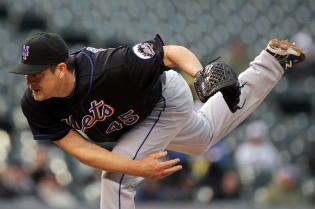 Jason Isringhausen loves New York so much that he'd rather stay in town. But contrary to a previous report from the New York Daily News, he did not request a trade.
"I never [bleeping] said one thing about, 'Please don't trade me,' " Isringhausen told the New York Post on Monday. "Yeah, I talked to Sandy, but I never once said, 'Please don't trade me.' I said I'd like to stay here. I'd never plead with anyone about staying anywhere."
The 38-year-old reliever has engineered a surprising comeback after being left for dead. Isringhausen, the former
Cardinals
closer, had a Ryan Franklin-esque meltdown in 2008, replete with injuries. He posted a 5.70 ERA and lost his closer's job a season after a typical one in which he had 32 saves and a 2.70 ERA.
He attempted to make a comeback in 2009 with the
Rays
but could only muster eight innings pitched before missing all of 2010.
Back with the
Mets
, who drafted Isringhausen in the 44th round of the 1992 draft, he is enjoying a career renaissance with a 3.14 ERA in 28 2/3 innings and has become the setup man. But the Mets are trying to rebuild while staying reasonably competitive at the same time.
With strong relief pitching always in demand and teams shying away from Mets closer
Francisco Rodriguez
because of a $17.5 million option that can easily vest should K-Rod remain a closer for the rest of the year, Isringhausen has
come up as a potential trade candidate along with
Rodriguez and
Tim Byrdak
.
Izzy, however, doesn't want to go anywhere.
"I have two places in my heart," he told the Daily News. "St. Louis, because I'm from there, and New York, because this is where I started. Those are my two favorite spots, and I don't think I'm going back to St. Louis anytime soon. And I love it here."
Isringhausen says he would like to stay in New York because of the chance to close and the outside chance of making the playoffs (and by outside, we mean
outside
). On a team that wasn't supposed to do anything, that's "fun," he said.
"If there is a chance that we can do that," he said, "I want to be a part of it."
The Mets are 11 games out of first and somehow would have to get past Philadelphia and Atlanta, two teams that increasingly look like the team to beat in the postseason for the NL. But there's no denying it would be a fantastic story if Isringhausen were part of a Mets team that shocked baseball, especially since he could hang up his cleats at any time.

"It's hard on us, being gone, and having a 2-year-old and and 8-year-old, one in school," he said. "I don't get to see them much. But like my wife says, 'You're only going to play baseball for so long. You have the rest of your life to come home to our so-called boring life' -- that's what she calls it."
For more baseball news, rumors and analysis, follow @cbssportsmlb on Twitter or subscribe to the RSS feed.