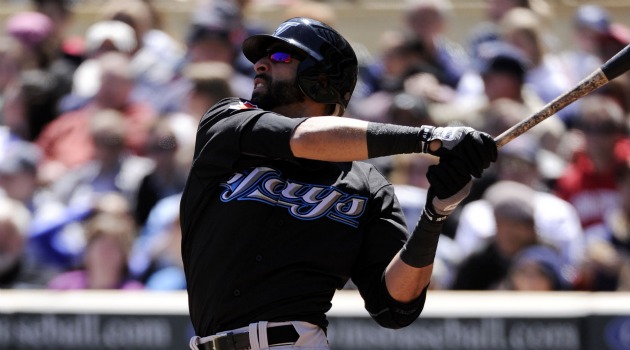 By Evan Brunell
SEE THE OTHER DIVISION ALL-STARS:
AL Central
|
AL West
|
NL East
|
NL Central
|
NL West
This just in: The talent assembled in the AL East is really, really good.
Just take a gander at the lineup for the AL East All-Stars on your lower right. Where exactly is there a hole? It's so deep that
Curtis Granderson
leads off despite boasting the second-most homers in all of baseball, tied with teammate
Mark Teixeira
with 25 apiece behind only
Jose Bautista
. It's so deep that
Yunel Escobar
, who leads off for the
Blue Jays
, is slapped into the nine spot as a second leadoff man. No matter how good any of the other division all-stars are -- the
NL East
,
NL Central
and
NL West
, along with the AL counterparts in the Central and West -- there simply is no stopping the offensive barrage this lineup has.
Let's take a look at who makes up the lineup, plus whose strolling to the mound and getting a win virtually any time this team plays.

C Matt Wieters, Orioles:
Russell Martin
got off to a strong start, but tailed off.
Jarrod Saltalamacchia
and
Jason Varitek
have recovered from a lousy April, but April counts, plus the two split playing time.
J.P. Arencibia
is hitting .216/.280/.424. The
Rays
catchers... who are they, again? That leaves Wieters, who is hitting .267/.323/.410. Not great, but miles better than the average catcher is producing (.236/.305/.378 in the AL). He also receives strong marks for fielding and has caught 24 of a potential 54 would-be basestealers, a percentage that no other catcher is close to duplicating.

1B Adrian Gonzalez, Red Sox:
Freed from Petco Park, Gonzalez is annihilating pitchers in his first season with the Red Sox, rapping out a .352/.412/.589 line, slamming 17 home runs and contributing in virtually every facet of the game except stealing bases. And that's not necessary at all for Gonzalez to be one of the best players in the league.

2B Dustin Pedroia, Red Sox:
Entering play Sunday, Pedroia and Cano were virtually the same hitter on offense, with a .373 mark in wOBA, essentially a better version of OPS, scaled to OBP. So why did Pedey get the nod? Because hitting's not the only part of the game -- fielding is. And there, Pedroia is flashing leather that could win the Gold Glove while Cano has slipped to being below average after showing progress in recent years.
ineup
No.
Name
Team
Pos
1
Curtis Granderson
NYY
CF
2
Dustin Pedroia
BOS
2B
3
Jose Bautista
TOR
RF
4
Adrian Gonzalez
BOS
1B
5
Alex Rodriguez
NYY
3B
6
David Ortiz
BOS
DH
7
Ben Zobrist
TB
LF
8
Matt Wieters
BAL
C
9
Yunel Escobar
TOR
SS

3B Alex Rodriguez, Yankees:
A-Rod may be 35 -- 36 later this month -- but that doesn't matter when throwing up a .295/.366/.485 mark in 344 plate appearances, showing that the possible eventual home-run king has plenty left in the tank. While Rodriguez just underwent the knife for knee surgery and will miss the next 4-6 weeks, he's still outproduced every third baseman in the division, which is no small feat with
Kevin Youkilis
in Boston and
Evan Longoria
down in Tampa. For those counting, A-Rod's 13 home runs bring him to a career 626.

SS Yunel Escobar, Blue Jays:
In the midst of what can only be characterized nicely as a bad year in 2010, Escobar was traded to the Blue Jays among questions about his maturity and commitment to the game. I think Toronto's happy with his commitment, as the Cuban has a cool .292/.368/.441 line. Yes, the AL East is rather thin on productive shortstops (sorry,
Derek Jeter
), but Escobar would deserve this spot in almost any other division.

LF Ben Zobrist, Rays:
One could argue that Zobrist has been the most valuable Ray this year. While he's been primarily playing second base, he's also been one of the best hitters with a .272/.359/.480 line, stealing 10 bases and being a fantastic fielder. Zobrist has moved around the diamond so much, playing every position over his career other than catcher. He only played one game in left last year of a career 24, but you make the All-Star team not just on hitting, not just on fielding, not just on stealing, but how valuable you are. And the ability for Zobrist to move around the diamond and play any position is ginormous.

CF Curtis Granderson, Yankees:
As mentioned above, Granderson trails only Jose Bautista in home runs, having knocked 25. He's leading off because... well, just look at that lineup. But it also helps that he's corrected his struggles against left-handers, boasts a .362 OBP and has swiped 15 bags on the year. When New York first acquired Granderson prior to the 2009 season, many felt he had at least one 40-homer season in store thanks to the short right-field porch in (new) Yankee Stadium. That didn't happen last year, but barring injury or a major dropoff, Granderson will reach that mark this season for the first time in his career.

RF Jose Bautista, Blue Jays
(pictured)
:
File under "Duh." Joey Bats has been the best player in baseball by far this year. That's what happens when you have an unconscionable (in the post-steroids era, that is) 31 home runs by the All-Star break with a sterling .468 OBP. If his .702 slugging percentage holds up, he will be the first player to crack that mark since Barry Bonds with .812 in 2004. And if you don't count Bonds because of his "alleged" steroids use -- nor Sammy Sosa, the last person is Larry Walker way back in 1999 with a .710 mark. But the dude had Coors Field helping him. So let's move on and bypass Mark McGwire too. You land on Jeff Bagwell's .720 way back in 1994. That's nearly two decades ago. Two other players also broke the .700 mark in '94 -- Frank Thomas with .720 and Albert Belle with .714. Before that, you have to trot all the way back to 1957 and Ted Williams' .731 mark. And that's why he bats third in this lineup.

DH David Ortiz, Red Sox:
Surprisingly -- at least, surprisingly to those who jumped in a time machine from any time prior to this April -- this was an easy choice. Big Papi has raked all year and will represent the AL in the All-Star Game on Tuesday as the starting DH. Showing power not seen since 2007, the lefty has blasted 19 home runs in 343 plate appearances and has trimmed his strikeout rate to 13.4 percent. That's a career low for Ortiz, who is hitting .304/.391/.579 overall.

SP James Shields, Rays:
Let's take a look at where James Shields ranks among all pitchers entering play Sunday. Seventh in innings pitched with 134. Ninth in ERA with a 2.47 mark and sixth in xFIP (ERA minus all the things pitchers aren't entirely responsible for, such as qualify of the defense behind him) with a 2.87 line. Ninth in K/BB ratio with a even 4.00 mark on the strength of 132 strikeouts against just 34 walks (one intentional). He's also tied with
Roy Halladay
in complete games with six. But we've got to put that in past tense, as Shields registered yet another complete game on Sunday, allowing just one unearned run to drop his ERA to 2.33. There's no question he belongs here.

RP David Robertson, Yankees:
Roberson has really come on this year and brings the heat with an average fastball velocity of 93 mph, pairing it with a curveball that befuddles batters. All that's handed him 56 strikeouts in 35 1/3 innings. We'll forgive his 23 walks given he's causing batters to windmill enough to power all of New York City, if not the state. Potentially
Mariano Rivera
's successor down the line, he has a 1.27 ERA on the year, with a more sane -- but still excellent -- 2.57
xFIP
.

CL Mariano Rivera, Yankees:
If this feature had been running since Rivera first became closer way back in 1997, he's probably working on a 15-year streak. Oh well, he'll settle for being the inaugural AL East closer. Rivera has had some triceps issues lately, but that hasn't prevented him from being his usual automatic self, racking up 22 saves with a 1.85 ERA -- his fourth straight season with an ERA under 2.00 and eighth of nine seasons.
For more baseball news, rumors and analysis, follow @cbssportsmlb on Twitter or subscribe to the RSS feed.