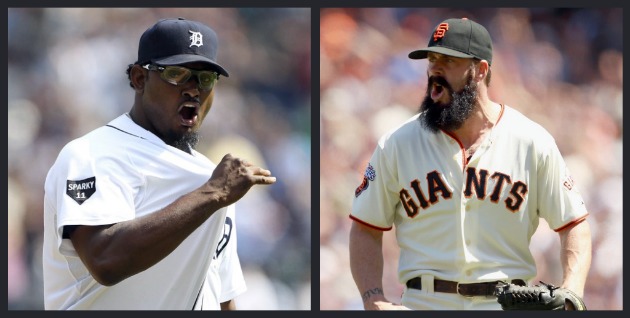 By C. Trent Rosecrans
PHOENIX -- Not only did the All-Star managers announce their starters on Monday, both Bruce Bochy and Ron Washington announced their closers for Tuesday's game -- if they get that opportunity.
It's no surprise Bochy is going with his Giants closer, Brian Wilson, while Washington said he'll go to the Tigers' Jose Valverde if he has a lead in the game's last inning.
Valverde is making his third All-Star appearance, which is why Washington chose him as his closer over first-timers Jordan Walden of the Angels, Chris Perez of the Indians and the Mariners' Brandon League. This of course is an issue because the Yankees' Mariano Rivera is inactive for Tuesday's game.
"I wanted to have a veteran that may be able to handle whatever pressures are there and that's why I chose Valverde," Washington said. "I want to win bad, I want to make sure I had someone who can stand whatever heat is applied."
Valverde leads the American League with 24 saves and has a 2.70 ERA, striking out 39 batters in 40 innings.
For Bochy, the decision was a bit easier -- Wilson's the guy he trusted to close out the World Series, so he's going to close out the All-Star Game if he's in position to close out a National League victory.
Wilson is in his third All-Star Game and gets the nod over the Padres' Heath Bell and the Braves' Craig Kimbrel. Bochy did note that he'll have to talk Wilson on Tuesday because his right-hander has pitched four of the last five days, picking up saves on Thursday and Sunday, taking the loss on Friday.
"That was part of my reasoning for picking Kimbrel over [Braves starter Tommy] Hanson," Bochy said. "I wanted another reliever to help out late in the game."
For complete All-Star Game coverage, keep up with Eye on Baseball in Phoenix
For more baseball news, rumors and analysis, follow @cbssportsmlb on Twitter or subscribe to the RSS feed.