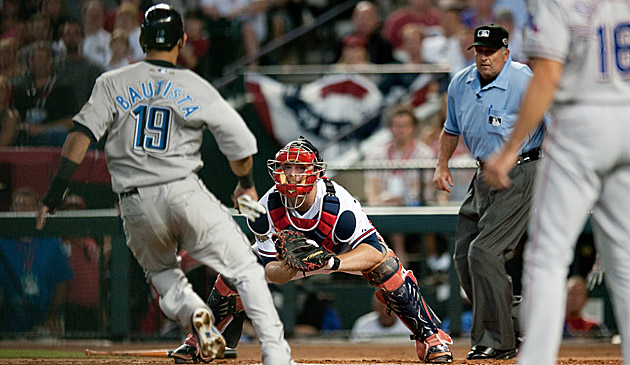 By C. Trent Rosecrans

There will be no hiding of the truth when
Tyler Clippard
tells the tale of his victory in the 2011 All-Star Game in Phoenix. The Washington
Nationals
right-hander threw just three pitches in the game and gave up a hit to the only batter he faced, but that was enough to pick up the W in the National League's 5-1 victory on Tuesday.
"No, I'm going to say I grooved an 0-2 heater to [Adrian] Beltre and
Hunter Pence
threw him out at the plate to vulture a win in my first All-Star Game," Clippard said. "I don't think that story gets any better."
It was certainly enough for Pence, who was playing left field for the first time since 2005 when he was a member of the South Atlantic League Lexington Legends. Pence had a single in the game as well, but it's the throw he'll remember.
"Taking runs away and playing baseball, that's what it's all about, being a complete player," Pence said. "These days in the National League, that's what we're known for, being able to play small ball."
The National League trailed 1-0 when Clippard came in to relieve
Cliff Lee
and face Beltre with Bautista on second and
Josh Hamilton
on first and two outs.
"I had a weird intuition that he was going to hit a line drive and I was like, OK, if he's going to hit a line drive, I'm going to make a good throw. I was kind of anticipating it a little bit. McCann was right in position, made a good catch and tag -- that's not easy to do. It happened the way I envisioned it."
Beltre hit a one-hop liner to left and Pence fielded the ball a split second before Bautista touched third base and made a perfect play to McCann, who had time to set up and tag the sliding Bautista to end the inning.
See the play here.
In the bottom of the inning,
Prince Fielder
hit a three-run homer to give the National League a 3-1 lead and ultimately make Clippard the second National in a row to earn the All-Star win. Last season
Matt Capps
picked up the victory, like Clippard recording just one out.
"It's one of those weird things that has taken place. Coming into the game right there, that crossed my mind," Clippard said. "I was trying to get out of there without any damage. We scored at the right time and it happens."
So who is getting the win for the National League in Kansas City?
"[Drew] Storen," Clippard said. "Storen's getting it next year."
For complete All-Star Game coverage, keep up with Eye on Baseball in Phoenix
For more baseball news, rumors and analysis, follow @cbssportsmlb on Twitter or subscribe to the RSS feed.