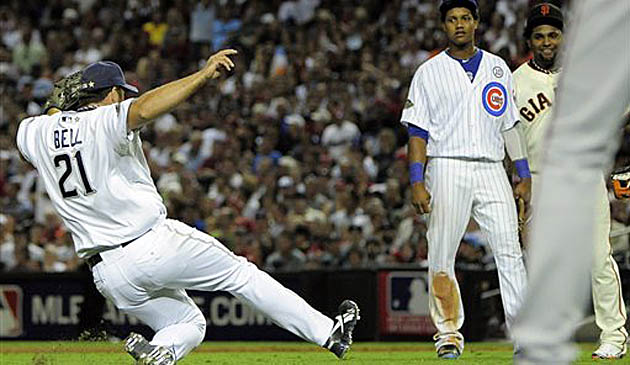 By C. Trent Rosecrans
PHOENIX --
Heath Bell
was sure he wouldn't get hurt sliding into the pitchers mound in the eighth inning -- he'd practiced it after all.
Wait… what?
"Yeah, I practiced," Bell said of his slide.
Where?
"On my lawn. Last week," Bell said. "I'm not going to do something stupid… well, I'm not going to do something stupid without preparing myself."
Bell has sprinted in from the bullpen for every appearance since 2009, but for his third All-Star Game, he wanted to do something a little special. The result had players and fans alike laughing as the 6-foot-3, 260-pound Bell came in to face
Jhonny Peralta
with two outs in the eighth and just before he got to the mound, he slowed his run and slid feet-first, tearing up a little of the infield sod along the way.
See the play here.
The idea was hatched in the
Padres
' bullpen recently as Bell tried to conjure a signature move for his All-Star appearance. Finally, fellow right-hander
Anthony Bass
suggested the slide.
Even with the practice under his belt, Bell had second thoughts during the game. First manager Bruce Bochy gave his "this game really counts" speech before the game and Bell reconsidered. Then during his run, he thought maybe it was just a bit too much. But when he saw third baseman
Pablo Sandoval
clear the way for his slide -- he went for it.
At second base,
Reds
second baseman
Brandon Phillips
had gotten full warning that Bell was going to do "something." He saw the sprint and thought it was nothing new -- Phillips' former teammate
Todd Coffey
has been doing that for the last five years. And then Bell went into a slide.
"What in the world?" Phillips recalled. "It was funny. It was classic."
What about first basmean
Joey Votto
? What did he think?
"I think he was safe. I wasn't really that surprised," Votto said. "I was expecting more from
Brian Wilson
afterwards, though. I thought maybe he'd do something cool, like parachute in."
Wilson said he enjoyed Bell's slide, but had just one thought.
"You better get the guy out," Wilson said.
Bell needed five pitches, but did get Peralta to pop up to Phillips, ending the inning.
"It was my third All-Star Game and I wanted to have a blast," Bell said. "I did and I did my job."
For complete All-Star Game coverage, keep up with Eye on Baseball in Phoenix
For more baseball news, rumors and analysis, follow @cbssportsmlb on Twitter or subscribe to the RSS feed.