By Evan Brunell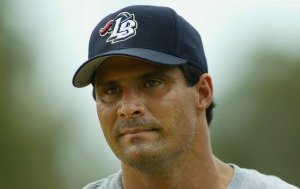 Jose Canseco continues to make the news for all the wrong reasons, the most recent being a breakup with longtime girlfriend Leila Shennib.
Shennib took to the airwaves to defend herself, speaking to 106.7 The Fan in Washington D.C. about her relationship with Canseco, which has turned nasty due to his repeated attempts to win her back alternated with threatening her. He recently posted her phone number on Twitter (the tweet has since been deleted), causing a deluge of Canseco sympathizers to call Shennib and leave hateful messages.
Shennib said the two had been dating for almost two years and marriage was being discussed seriously. After the breakup and after she had blocked his phone calls and Facebook, he tweeted out a marriage proposal that she summarily rejected.
"I think everyone who has Twitter or knows anything about Jose knows he likes to go on his little rants and he really doesn't have much credibility," Shennib said. "I think anyone with half a brain can look at this situation and see there's got to be something missing here. I broke up with him about two or three months ago and he has tried every avenue to get back together with me. ... One day he would say, 'I love you, I'll do anything, I want to marry you.' Then, the next day, he would be saying horrible things about me and harassing me and making up lies about me."
Shennib said she broke up with Canseco after he "did [her] dirty" by finding out certain actions he had done that she declined to reveal. She noted that she was going to get a restraining order because he would not stop trying to contact her and threatened her mother when she attempted to intervene and tell Canseco to leave Shennib alone.
On Twitter, Canseco alleges that Shennib is either a stripper or has a drug problem (or both) and says "u cant fix them."
Sounds like it's Canseco who can't be fixed, and who has led an increasingly bizarre life as of lately after blowing the top off baseball's steroids scandal when he authored
Juiced
in 2005.
"Honestly, I don't know if it's the steroids," Shennib said when asked if steroids was to blame for Canseco's erratic behavior. "Sometimes I think the reason why he is the way he is is because he has been through things in his life that no one else has been through. … I don't feel he has what it takes to be able to deal with those things in a mature way and move on with his life. I feel like everything that's happened has built up … and he just likes to take it out on other people."
Canseco is currently player/manager for the Yuma Scorpions of the North American League, an independent baseball team. Canseco pitches as a knuckleballer and is also in the lineup with regularity, hitting .255 with two home runs. On the mound, Canseco has tossed 13 2/3 innings, posting a 7.90 ERA. He pitched six innings and gave up one run on Saturday... but was facing pitchers who, as a gimmick, acted as positional players for the game.
It is entirely unsurprising to see that Yuma is currently in last place with a 15-28 record in their division, 13 games out of first.
For more baseball news, rumors and analysis, follow @cbssportsmlb on Twitter or subscribe to the RSS feed.