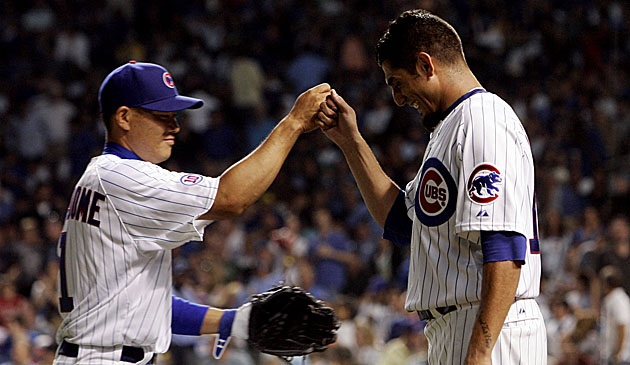 By Matt Snyder
One of the things I find most lame in the world of baseball writing is how there's a huge fight between those who love sabermetrics and those who oppose it as if it's the worst thing in the history of mankind. Accusations are hurled in each direction, whether it's a "mother's basement" insult or an insinuation that the other party is a moron. I try to not get involved, as I believe there's merit to different things on both sides, but one area where I feel strongly is that using wins and losses to judge pitchers is stupid.
Example number infinity happened last night during the
Cubs
-Marlins game.
Matt Garza
threw seven shutout innings, but
Carlos Marmol
was deplorable in the ninth (zero IP, five earned runs). The Cubs lost. So Garza didn't get the win.
I just have a question for the people who like to puff their chests out and use the "mother's basement" term on people who don't like using wins and losses: Where does Bob Brenly live? The Cubs' color man, who was an All-Star catcher and has a World Series ring from a managerial stint, said, "win-loss record is not a good way to judge a pitcher" once Marmol blew the game.
FIGHTING DEPRESSION:
Mets
reliever
Taylor Buchholz
is suffering from what seems like a very serious case of depression. He's likely to miss the entire season and things do not sound good (
Springfield Patch
).
EXPENSIVE MIDDLE RELIEVER:
The
Yankees
spent a pretty penny ($35 million over three years) this offseason to bring
Rafael Soriano
in as their eighth-inning man. What they've gotten in return is a 5.40 ERA, an attitude the New York media has questioned and a long stint on the DL. In the meantime,
David Robertson
has excelled, even making the All-Star team. Soriano is close to coming back now, but what will his role be? We don't know, because Yankees' skipper Joe Girardi wouldn't say. It does feel unlikely the Yankees immediately promote him past Robertson, though. (
NJ.com
)
DO YOU KNOW WHO I AM?
Cubs manager Mike Quade had to fly commercially after the All-Star Game and he must have looked suspicious. He was retained for 40 minutes by TSA and given a full-fledged pat-down. Quade said he didn't tell the officials who he was, but hoped they would ask. (
Chicago Tribune
)
WORKING IT:
Royals
first round pick Bubba Starling is committed to playing football for Nebraska and the negotiations with the Royals are ongoing. Reportedly, Starling is likely to sign with the Royals eventually, but he's really working his bluff, as he's attending voluntary workouts with Nebraska. For what it's worth, the Royals don't seem bothered by it. (
Fox Sports KC
)
15 MINUTES:
Apparently all you have to do to get a short run at quasi-fame these days is be an idiot. (
Arizona Republic
)
NO MO WILY MO?
One of the more entertaining players in the majors has to be Wily Mo Pena. He's hit five home runs in just 46 at-bats, but he also has 19 strikeouts with nary a walk. But he's about to be designated for assignment by the
Diamondbacks
, who will activate
Geoff Blum
from the DL.
Brandon Allen
will also be added to the roster while Juan Miranda is demoted to Triple-A. What about prospect Paul Goldschmidt? Nick Piecoro examines the issue (
Arizona Republic
).
THE PRICE IS RIGHT:
Rays
pitcher
David Price
was initially upset about giving up
Derek Jeter
's 3,000th hit -- which was also a home run, as we all know. Evidently, Price is over it, as he's now agreed to a deal to autograph items, such as baseballs, "I gave up DJ's 3K." (
Tampabay.com
)
BACK ON HIS FEET:
Just a few weeks from walking away from the
Nationals
' managing gig, Jim Riggleman now has a job with the
Giants
as a special assignment scout. (
Extra Baggs
)
THERE SHE BLOWS:
A minor-league game was postponed when heavy winds blew the outfield wall down at Lake Olmstead Stadium, home of the Augusta GreenJackets. It was reportedly a 50-foot section of an 18-foot high wall. (
Augusta Chronicle
)
MUCH ADO ABOUT NOTHING:
There were tons of scouts in the building to watch
Rockies
starting pitcher
Ubaldo Jimenez
Thursday. Upwards of 17 teams, that is (
Fox Sports
). And he's not going anywhere. The Rockies will have to be absolutely bowled over to cough him up, especially since he's relatively cheap for the next few years.
MORNEAU, ROBERTS PROGRESSING:
Twins
first baseman
Justin Morneau
has been cleared to resume baseball activities (
MLB.com
). Meanwhile,
Orioles
second baseman
Brian Roberts
has been allowed to increase his workload as he attempts to return from a concussion (
MLB.com
).
For more baseball news, rumors and analysis, follow @cbssportsmlb on Twitter or subscribe to the RSS feed.