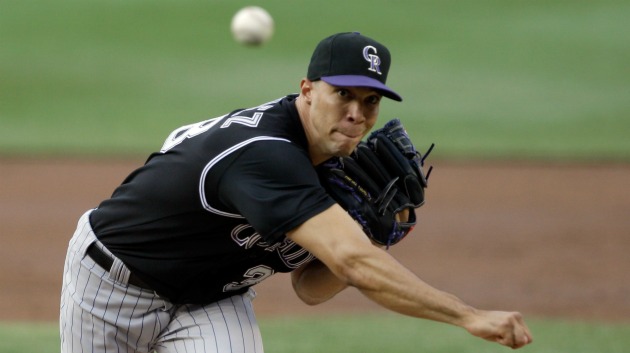 By C. Trent Rosecrans
It seems Ubaldo Jimenez is this season's hot name that could go nowhere.
Last week it was the Reds who popped up as a possible landing spot for Jimenez, but now it seems more are involved. Jon Heyman of Sports Illustrated reports the Rockies have been in contact with the Yankees about Jimenez. Heyman said later on MLB Network that 12 teams have contacted the Rockies about JImenez, adding the Red Sox and Rays as possible bidders. Troy Renck of the Denver Post adds the Tigers, Rangers and Phillies as teams with interest in Jimenez.
It's easy to understand why teams would want Jimenez -- he's one of the top talents in the game, even if he's not putting up the dominant numbers he did a year ago when he was 15-1 with a 2.20 ERA in the first half. This season he's 5-8 with a 4.08 ERA, but most of his struggles have been at Coors Field, where his ERA more than three-and-a-half runs higher than it is on the road -- .5.89 at home and 2.28 on the road. His strikeout rate (8.1 per nine innings) is down slightly (8.7 last season), but so are his walks (3.5 walks per nine innings in 2011 and 3.7 in 2010).
And it's not just Jimenez's presence on the mound that makes him attractive, he's a relative bargain, signed through next season and he makes just $4.2 million in 2012 and has team options for both 2013 ($5.75 million) and 2014 ($8 million), but the 2014 option is voided if he's traded. Evan at $8 million, Jimenez is a bargain -- for comparison, Colorado's Aaron Cook is making $9.25 million this season and enters today's start with an 0-4 record and 5.82 ERA. Another team won't benefit from the 2014 option, but any team trading for him would get Jimenez for the next two seasons for less than $10 million.
As a comparison, perhaps one of the other top names on the trade market is Houston left-hander Wandy Rodriguez, who is in the first year of a three-year, $34 million contract.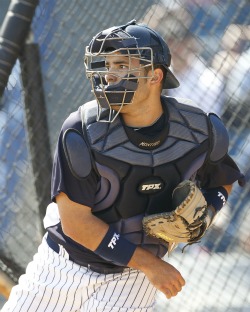 The Rockies have spent their entire existence searching for an ace pitcher that's not bothered pitching at Coors Field, in Jimenez, they've finally got him. So, why would the Rockies trade him? That's a pretty good question. The short answer is that it doesn't cost anything to listen.
"We would have to be absolutely overwhelmed," Rockies general manager Dan O'Dowd told the Denver Post. "It would have to be a Herschel Walker deal."
In 1989 the Dallas Cowboys sent Herschel Walker to the Minnesota Vikings along with four draft picks in return for five players and eight draft picks. The Cowboys turned those draft picks into Emmitt Smith, Alvin Harper, Darren Woodson, Dixon Edwards and more draft picks, including the one that led to the first overall pick in 1991 (Russell Maryland). That trade laid the foundation for the Cowboys' three Super Bowl titles in the mid-90s.
In a baseball equivalent, you could call it a Mark Teixeira trade. In baseball, you can't trade draft picks, but prospects are the equivalent of NFL draft picks. In 2007, the Rangers sent Teixeira and Ron Mahay to Atlanta for Elvis Andrus, Neftali Feliz, Matt Harrison and Jarrod Saltalamacchia. That's a pretty good haul -- and that's for a player that was scheduled to be a free agent. Jimenez could cost more because of the extra years of team control with a very team-friendly contract.
The market has changed in reaction to that trade, with fewer teams giving up that much for rentals, but Jimenez won't be a rental, so he could command a king's ransom.
What are the Rockies looking for? Mainly they want young pitching talent that can be under team control for a long time, but that's major league ready. They'd also want a top-notch position prospect, as well. The Yankees would likely need to give up catcher Jesus Montero (right) and a top pitching prospect such as Manny Banuelos or Dellin Betances in addition to other prospects. Heyman said on MLB Network that the Rockies have asked for not just Montero, Banuelos and Betances, but also Ivan Nova. The Reds could spare first baseman Yonder Alonso, but would have to send some pitching such as Mike Leake and/or Travis Wood to the Rockies in addition to other players.
There have been reports that Jimenez is unhappy with being on the trading block, but he denies that's the case.
"I won't be bothered by trade rumors. I am mentally strong," Jimenez told Renck. "Don't forget that about me."
It would be foolish for someone like O'Dowd not to listen, but in the end, if the Rockies do trade him, it will have to be for a massive collection of talent.
For more baseball news, rumors and analysis, follow @cbssportsmlb on Twitter or subscribe to the RSS feed.