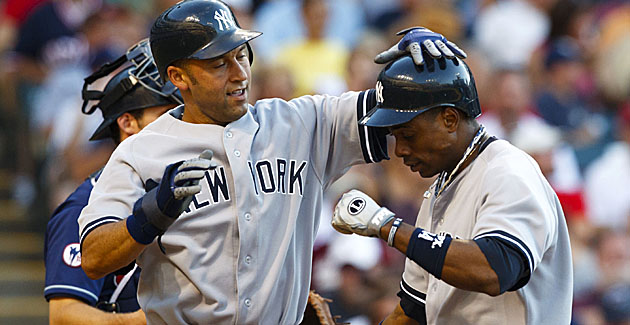 By Matt Snyder
There's a lengthy article in the
Star-Telegram
about the extremely low number of African-American players in baseball, and how it trickles down to fans.
Curtis Granderson
points out that he can rarely count 10 in the crowd, excluding stadium personnel. Is this a problem? Upon first glance, my thoughts were no. It's not an issue of racism, because it's pretty clear major-league teams will sign anyone that can help them win. My gut feeling is that more young African-American kids are drawn to basketball and football. Just look at the demographics and diversity in those leagues. As long as there's no discrimination, why does it matter what color the players and fans are?
But
Corey Patterson
of the
Blue Jays
makes a salient point (
Star-Telegram
).
"I really do like all of my teammates and I'm friends with them," Patterson said. "But it does bother me. It does. I'm not saying the whole stadium needs to be brown or black, it's not that. I could talk about this until I'm blue in the face, and you might sympathize, but it doesn't affect you, so you don't think about it too long.

"My mental processes might be different because of the environment I'm in.

"It's hard for me to explain. Someone might say it's fine and we're all cool, but it's easier said if you're the majority."
And he's right. Since I'm white, I don't know what the Pattersons and Grandersons of the MLB are going through. I always thought that just being accepting and supportive of everyone -- regardless of color -- was enough, but maybe the MLB does need to spend more money on campaigns to get
all
children in the country excited about baseball. After all, studies have shown most baseball fans are adults, while kids are more drawn to basketball, football and soccer. This could become less an issue of diversity down the road and more an issue of losing fans ... of all colors.
Getting defensive:
The
Rays
are hanging around in the race this season despite having a less-than-exciting offense and having lost a lights-out back-end of the bullpen duo. They are, as usual, doing it with stellar defense.
Steve Slowinski on TampaBay.com
opines that this could be the best defensive team the Rays have had in the past decade. That's saying something, because they've been among the best defensive teams in baseball for the past four to five years.
Historic futility:
The
Mariners
are on pace in July to have the fourth-lowest runs scored in a month -- in which the team plays at least 20 games -- in the history of baseball. No wonder they fell completely out of the race in a matter of two weeks. (
The Seattle Times
)
Runaway

groom

bride:
A man wearing a wedding dress ran onto the playing surface during play at Turner Field Saturday night. The idiot was promptly tackled by security and arrested, but hey, I'm sure it was definitely worth it. (
Big League Stew
)
Pujols 'taunts' fans:
After
Albert Pujols
' big three-run homer Saturday night in Cincinnati, Pujols told the
Reds
fans to quiet down, via body language (
check out the screen-grab by clicking here
). I can see some being up in arms about this -- because, let's face it, there is always at least one person who gets mad about anything these days -- but I have no issue. I actually kind of like it. Then again, I did grow up a Pacers fan and saw this from Reggie Miller on a regular basis. (via
Hardball Talk
)
Caught napping, literally:
Saturday in Wrigley Field, the TV cameras caught
Marlins
relief pitcher
Edward Mujica
sleeping in the bullpen.
Cubs
broadcaster and former All-Star catcher Bob Brenly was aghast, calling it "embarrassing," though Mujica said it was less than five minutes that he had his eyes closed.
Check out the video on MLB.com.
Already in trouble?
As I noted in 3
Up, 3 Down Saturday night
,
Barry Zito
had three really good starts before Saturday's debacle, but that seems to have been all he needed to shake the confidence of management. The possibility of skipping Zito's next turn is being discussed. Now, obviously it wouldn't be punishment of any sort, it's just that Zito is the No. 5 starter and the logistics of the schedule work out that a turn can be skipped. But had he thrown another gem Saturday, I doubt this would be a thought. (
SFGate.com
)
Let 'er rip, big fella:
Adam Dunn
has a pretty good shot at breaking the record for strikeouts in a season, and his manager isn't going to stand in the way. Ozzie Guillen told reporters that he'll bench Dunn if he's not helping the ballclub, but he won't specifically bench him to avoid the strikeout mark. (
Chicago Tribune
)
Cursed left hand:
Blue Jays prospect Brett Lawrie was reportedly close to a promotion to the bigs before he was hit in the hand with a pitch May 31. The broken hand shelved him for weeks and he's now on rehab assignment. Saturday night, he was hit with a pitch on the same hand again -- only this time he walked away uninjured, due to a protective batting glove. At least he found out it works. (
National Post
)
Here today, gone tomorrow:
Padres
catcher Luis Martinez made his major-league debut Friday night and was then sent back to the minors less than 24 hours later. He still said it was a "dream come true" and is hoping to make it back. (
MLB.com
)
Happy Anniversary:
Sunday marked exactly 70 years since Joe DiMaggio's famed 56-game hitting streak ended. Will anyone ever reach that mark again? I seriously doubt it. (
Big League Stew
)
80-dollar dog:
Yes, there's a hot dog for sale with the hefty price tag of $80 -- the Broxton Rox, of the Canadian-American Association of Professional Baseball. Here's the description of the monstrosity: "The foot-long wiener will get the royal treatment. After deep frying, it will be rolled in truffle oil, then coated in porcini dust. The dog is to be topped with white truffle shavings and crème fraiche. If that doesn't gild the lily enough, the frank will be finished with caviar and fresh roe." (
ThePostGame.com
)
For more baseball news, rumors and analysis, follow @cbssportsmlb on Twitter or subscribe to the RSS feed.