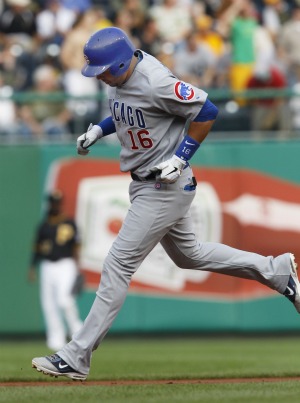 By C. Trent Rosecrans
Cubs third baseman Aramis Ramirez isn't going anywhere… for now.
Ramirez has a full no-trade protection as a player with 10/5 rights, 10 years of service and five with the same team. Ramirez, 33, could be a target for many teams, including the Angels, Tigers and Pirates, but his agent, Paul Kinzer, tells FoxSports.com's Ken Rosenthal that Ramirez wouldn't approve a trade before the July 31 non-waiver trade deadline.
That last part is the key, though -- Ramirez may approve a trade in August if he clears waivers or the Cubs can make a deal with a claiming team. Last year Chicago moved Derek Lee in August. The issue for Ramirez is his family. His wife and children will return to the Dominican Republic for the start of school in August, and at that point he might be more open to moving.
"When his family goes back, and his kids go back to school, that could possibly loosen it up," Kinzer told Rosenthal. "As of now, he has no interest. He loves Chicago. He always wanted to finish his career there."

Later, Ramirez confirmed to the Chicago Tribune that his family is the reason he isn't interested in a trade.

"It is for family considerations," Ramirez said. "If I were to be single, by myself, yeah, I'd move anywhere and be in a hotel the last two months. But it's too tough with my family. I've earned the right to be in this position."

Phil Rogers of the Chicago Tribune writes that teams think this is a bluff and Ramirez would accept a trade. He also said the Tigers could send Brandon Inge and prospects to Chicago in return for Ramirez and Carlos Zambrano.
The Cubs have a $16 million option on Ramirez for 2012 that becomes automatic, plus another $1 million if he's traded. Kinzer, though, said Ramirez would prefer to have that option dropped if he's traded, making him a free agent after the season. He'd be the second player to decline a guaranteed option for big bucks in 2012 in a trade, as Francisco Rodriguez made a similar move to become a free agent after the season following his trade to Milwaukee.
"Most teams wouldn't have a problem with that," Kinzer said. "They would be renting a player for the rest of the season. That's all stuff we'd have to look at."
If he stays with the Cubs through the end of the season, it's unlikely Chicago would pick up his option.
Ramirez is hitting .300/346/.504 with 16 home runs and 56 RBI this season, and since June 1 he's been on fire, hitting .313/.345/.631 with 14 home runs and 37 RBI. He would help any team that needs a little pop in the lineup, that's for sure. It would be interesting if he were to return to Pittsburgh, where he started his career. The Pirates need a third baseman and they need a power jolt to the lineup. Pittsburgh has come out and said it would look to upgrade its lineup heading into August.
For more baseball news, rumors and analysis, follow @cbssportsmlb on Twitter or subscribe to the RSS feed.