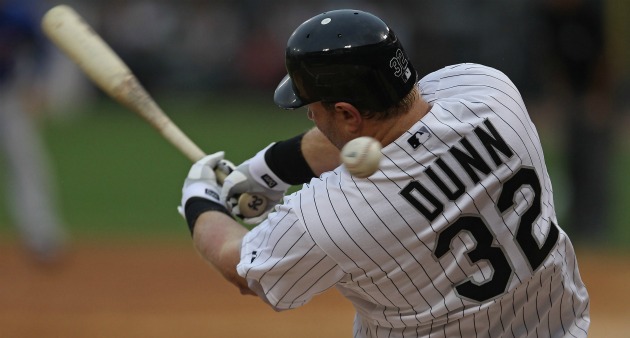 By Evan Brunell

Adam Dunn
is mired in such a deep and seemingly neverending slump that he admits quitting has crossed his mind,
Yahoo! Sports
writes.
"If I'm not having fun anymore, I'll go home," Dunn said. "Flat out. I'll go home. I mean that. Swear to goodness. I'll. Go. Home. I enjoy playing. Even though I suck. Or have been sucking. I enjoy playing the game. Love it. But as soon as I lose that, I'm gone, dude. It's true."
Dunn's slump has lasted all season with a miserable .158/.289/.299 line heading into Wednesday's game. All these are rock-bottom career lows, and if the batting average holds, he will obliterate Rob Deer's .179 mark in 1991 as the lowest by a player in quite some time. In addition, Dunn's 124 strikeouts put him on pace for 204 at the end of the season, which would give him a 200-strikeout season for the first time in his career.
"How many games can you play doing this? This is ridiculous," Dunn said. You get to a point, and you're like …"
Still, don't expect Dunn to quit even if he talks about doing just that.
"It's not going to happen," he says. "Zero chance. Zero. You can't get this competition anywhere else, dude. I don't care where you look. Nowhere else. It's one-on-one, dude. And you can't find that anywhere."
Dunn can't make heads or tails of his slump, saying he feels fine at the plate -- mentally he's in the game, physically nothing's hurting and mechanically his swing is fine.
"I'll have a good couple of games, and then … phhhhhh," Dunn added. "I can't get hot. Maybe it's going to be one of those things where the last two months are just gonna be epic. I don't know why they can't be.
"There's been times where it's like, 'Here we go. I've got it. It's back.' And then the next day I'll run into a guy who pitches me good, and it's like, 'Oh, crap.'…"
Looking at the numbers, you can see that Dunn is suffering from a low batting average on balls in play, with just 23.5 percent of his batted balls falling in for hits. This is compared to a 29.3 percent career average. That's not enough to justify Dunn's failures though, because he could just be making weaker contact. His spiking strikeout rate and inability to catch up to fastballs to the point that pitchers are throwing him heaters like never before lends some credence to the idea that his bat has slowed just enough to destroy his chances of being productive. It doesn't help that the average fastball velocity that he's seeing is at a career-high 92.1 mph. He was seeing a lot of 89- and 90-mph fastballs up until 2009. That year, it ticked up to 91-mph -- but he didn't have trouble with those either. He certainly is now. He simply can't do a thing against fastballs.
One potential issue could be Dunn's expansion of the strike zone. Up until last season, he had offered at 20 percent or less of outside pitches. That spiked to 28.5 percent last season, the trend continuing with a 27 percent mark this year, while his offerings at pitches inside the zone have remained constant. Is Dunn expanding the strike zone to try to compensate for poorer pitch recognition or slower bat speed? Possibly, but cranking 38 home runs last season with a .260 batting average suggests other things are at play. Whatever they are, Dunn wants it to end as fast as possible and still harbors hope that he can have an elite August and September to put Chicago in the driver's seat for the division title.
"There's two ways to do it," Dunn said on how to handle a slump. "You can sit and pout and 'why me' or you can say we've got 60 or 70 or 80 games left to start your year. For two months, be the best player in the league. And if I can do that, we're going to win a lot of games. I'm blessed with that kind of attitude, and thank God, because I don't know what I'd be doing. I know some people the big man upstairs wouldn't do this to because there would be some bad things happening."
For more baseball news, rumors and analysis, follow @cbssportsmlb on Twitter or subscribe to the RSS feed.