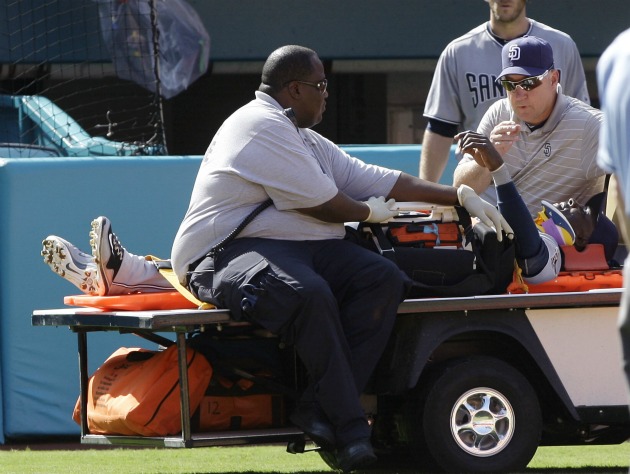 By Evan Brunell

Orlando Hudson
suffered a severe injury Thursday, crashing into a wall on the first-base side when diving to make a catch on
Omar Infante
's pop-up in foul ground. Hudson made a lunging grab just prior to the warning track, with his momentum carrying him into a dive. His head made contact with the padded wall, angling his body just before collision for the back of his head and right shoulder to absorb the impact, but he ended up being knocked unconscious.
"It was a scary moment," manager Bud Black told the Associated Press. "When a guy goes unconscious, you're worried. Any sort of collision with a wall or a teammate is just a sickening feeling in your stomach, and I think we all had that."
Hudson, whose catch ended the seventh inning with a 5-3
Padres
lead, was sighted moving his arms before being carried off the field in a stretcher, shaking hands with a teammate. The injury appeared scarier than it actually was, as Hudson was walking around after the game, texting on his phone and acting normally.
The 33-year-old has long been one of the best fielding second basemen in the game and is hitting .239/.335/.317 in his first season with San Diego, swiping a season-high 13 stolen bases.
For more baseball news, rumors and analysis, follow @cbssportsmlb on Twitter or subscribe to the RSS feed.