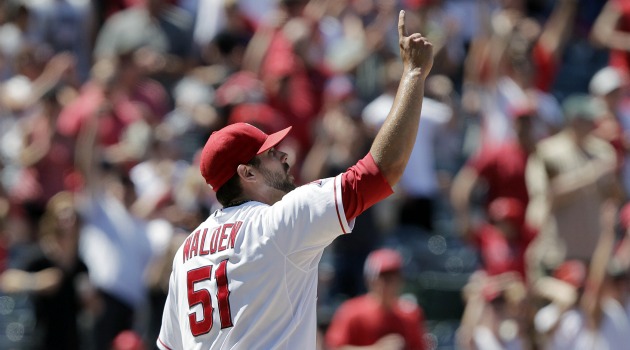 By Evan Brunell
C.J. Wilson, Rangers
: Wilson made history on Thursday, and not the good kind. He's in 3 Up because of the excellent performance he put forth: Wilson pitched an eight-inning complete game but lost due to an unearned run scoring thanks to an error. He limited the
Angels
to just two hits, one walk and eight strikeouts. Normally, that's enough to pull out a win with ease. But Wilson was going up against
Jered Weaver
, who blanked the Rangers through seven to drop his ERA to 1.81. Wilson is the first pitcher to lose a two-hit complete game with no earned runs since the
Yankees
' Kenny Rogers on May 28, 1996, as
ESPN Stats and Info
tweets. That's not all. On the MLB Network scrolling newsbar, it was noted that the last time Texas lost while limiting the opposition to two hits or fewer was August 15, 1989. So yeah, he made some bad history, but twirled quite a game.
Jordan Walden, Angels
: Walden lands here not just because of what he did Thursday, but what he also did on Wednesday. The Angels dropped the first game of the series to Texas, running the Rangers' winning streak to 12. But Los Angeles eked out one-run wins each of the next two nights, and it was Walden who closed out both games with 100-mph heat. That's some sizzle coming from the rookie, who now has 23 saves on the season, striking out 43 in 41 innings. Other players (such as
Jeremy Hellickson
) will get more attention in Rookie of the Year voting, but don't forget about Walden.
Jhonny Peralta, Tigers
: Peralta went boom in a very big way, launching a home run into the second deck of left field in the 8th inning to emphatically defeat the
Twins
6-2 -- but not before Detroit's new third baseman in
Wilson Betemit
made a comical throw in the ninth that allowed a run to come in. Peralta had three hits and three RBI and is up to .317/.364/.533, numbers he hasn't seen since 2005, his first full season in the bigs.
---
Logan Morrison, Marlins
: LoMo is struggling lately, with his latest 0-for-4 dropping his batting average to .147 since the All-Star break. But that's symptomatic of a larger trend, as Morrison is slashing .212/.274/.394 since the beginning of June, which does not include his Thursday ofer. Somehow, he's collected 30 RBI so is still doing OK in that department, but the power hitter is really struggling right now. He saw a potential two-run home run stolen away by
Cameron Maybin
in the first inning. Morrison later wrote something on a baseball and tossed it to Maybin,
tweeting after that he had written
"'U can take my HR but u cannot take my freedom' #Braveheart." It's nice to see Morrison still has his humor.
Jhoulys Chacin, Rockies
: Chacin walked a career high seven batters in this outing and it's the third time he's walked at least six in the last six outings. That does sound pretty bad, but in his defense, had issued just one free pass in each of his two most recent outings before this stinker against the
Braves
in which he gave up five runs in 4 2/3 innings. Chacin is on pace to throw 208 2/3 innings on the year. This from a 23-year-old topped out at 137 1/3 innings last season in his first full year of the majors. Colorado may want to scale back.
Brandon Allen, Diamondbacks
: Allen has a chance here to grab onto the starting job at first base and not let go. Arizona cleared the team of
Russell Branyan
quite some time ago and now has optioned Juan Miranda to Triple-A. Allen was given the call over Paul Goldschmidt, so he has some competition in the minors waiting for him. He got off to a good start yesterday by slugging a home run but today contributed an all too common 0-for-3 night with two strikeouts. Allen's power is awesome, but his issue in past big-league stints has been his strikeouts dragging him down. The D-Backs, after losing shortstop
Stephen Drew
for the season, may not have a ton of patience, as they need to keep contending.
For more baseball news, rumors and analysis, follow @cbssportsmlb on Twitter or subscribe to the RSS feed.