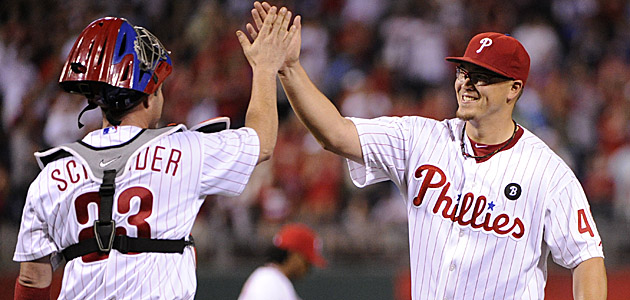 By Matt Snyder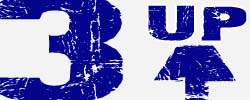 Vance Worley, Phillies.
On the day the Phillies learned they'd be losing No. 5 starter
Joe Blanton
for the season
, rookie phenom Worley showed -- once again -- that Blanton's spot is more than covered. The 23 year old has been sensational this season and came up big once again Tuesday night. He allowed only three hits and two runs in his first career complete game and is now 7-1 with a 2.02 ERA. If
Roy Oswalt
comes back as strong as he's capable, the Phillies have an absurdly scary rotation.
J.J. Hardy and Derrek Lee, Orioles.
The O's busted out with 12 runs -- a season high -- on 16 hits Tuesday night in a resounding victory over the
Blue Jays
. The entire offense hit the ball well, but Hardy and Lee were the obvious stars. Hardy clubbed two home runs and drove home four. Lee went 4-5 with a double, home run and five RBI.
Dustin Pedroia, Red Sox and Emilio Bonifacio, Marlins.
Both of these guys are getting close to making us pay attention daily to their hitting streaks. Bonifacio went 2-4 with a double in a Marlins victory to extend his streak to 24 games. Pedroia went 4-5 with a double and triple in a Red Sox win and is currently sitting with a 23-game hitting streak. The magic number for when streaks deserve our full attention is debatable, but with the trade deadline this week and lots of other stuff going on, 28 -- halfway to Joe DiMaggio's record 56 -- seems about right. Still, both of these guys deserve no less than a tip of the cap.
---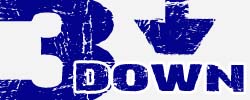 Neftali Feliz, Rangers.
The 2010 AL Rookie of the Year hasn't been near as effective this season, and it showed once again Tuesday night. He closed 40 of 43 save opportunities last season, but Tuesday he blew his fifth save in 25 tries in 2011. He's already surpassed last season's walk total in a little more than half the innings. A crucial fielding error didn't help Feliz Tuesday, but he still allowed a single, two doubles and a walk. If the Rangers do acquire
Heath Bell
, they should seriously consider dropping Feliz to eighth-inning duties. Bell is much more a sure thing.

Reds defense.
We could call the division the NL Comedy Central when it comes to defense, but the Reds are actually a really good defensive team. Tuesday night, they tried to emulate their Central bretheren. Three errors -- including from the normally sure-handed
Joey Votto
and
Brandon Phillips
-- cost the Reds six runs in an 8-6 loss to the
Mets
. That's right, only two of the eight allowed runs were earned. That's pretty rough on the pitching staff. Chalk it up as a bad day, but the Reds need not make mistakes like this in the NL Central battle, as they've fallen five games back.
Offense in Pirates-Braves game.
It was 3-3 after three innings. It was 3-3 after nine innings. It was 3-3 after 18 innings.
Cristhian Martinez
worked six scoreless innings from the bullpen for the
Braves
.
Martin Prado
went 0-9.
Andrew McCutchen
went 0-6. It was so bad the Pirates elected to sac-bunt against
Scott Proctor
-- whose ERA is over 7.00. Oh, speaking of Proctor ....
BONUS DOWN:
Umpire Jerry Meals. OK, we understand that was a long night behind home plate, but you cannot end a game with such a ridiculous call. The Braves beat the Pirates 4-3 in 19 innings after receiving an absolute gift at home plate (
click here for a post with video and photo evidence
). Braves baserunner
Julio Lugo
pretty clearly exhibited the type of body language that he knew he was out at home plate on Scott Proctor's ground ball -- which became a game-winning fielder's choice. Meals just called Lugo safe. Lugo even popped up several feet shy of home plate and was tagged on both the arm and the leg before stepping on home plate and being called safe. We're bound to discuss instant replay a bit the rest of the week, as this was an embarrassing way to end a 19-inning game. I'd even guess most Braves fans agreed (the Braves broadcast team most certainly did). Oh, by the way, there had already been a few ejections due to arguing Meals' strike zone.
For more baseball news, rumors and analysis, follow @cbssportsmlb on Twitter or subscribe to the RSS feed.