By C. Trent Rosecrans
Umpire Jerry Meals admitted after Tuesday's 19-inning Braves-Pirates game that he "might have" missed the game-ending call.
From Mark Bowman of MLB.com, here's what Meals had to say about the play that ended the 4-3, 19-inning Braves victory at Turner Field:
"I saw the tag, but he looked like he oled him and I called him safe for that," Meals said. "I looked at the replays and it appeared he might have got him on the shin area. I'm guessing he might have got him, but when I was out there when it happened, I didn't see a tag.

"I just saw the glove sweep up. I didn't see the glove hit his leg."
Here's a .gif of the play: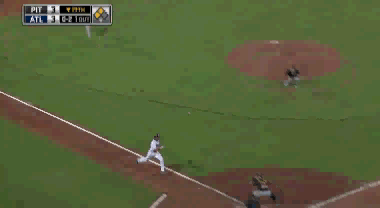 If you watch closely -- and not just noticing when the ball and runner both get near the plate, you can see how Meals could think that. It's not as obvious as it appears at first blush. It looks as if Michael McHenry did get him, but only brushed the runner.

"I know I'm safe," Braves runner Julio Lugo said.

Still, this is yet another example of why we need replay expanded. In the end, Meals made a mistake after 19 innings, that happens. But there should be a recourse. If the Pirates' dream season ends one game short of the playoffs, you can imagine who will be the scapegoat, and it's likely nobody will feel worse about it than Meals.
Last year there was a lot of attention around one missed call that cost Armando Galaraga a perfect game -- that only hurt an individual achievement, not an entire team. This one is worse, because the ramifications could last the entire season.

All that said, replay isn't a cure-all -- we saw that earlier on Tuesday with even the benefit of replay, umpires blew a call giving Albert Pujols a home run in St. Louis' win over the Astros. Pujols hit a ball off the wall in center field in the first inning that umpires reviewed and called a home run.

That didn't sit well with Astros manager Brad Mills.

"The whole system I think has to be reviewed if everyone looks at it and says it's not a home run," Mills told Zachary Levine of the Houston Chronicle. "Somebody in New York is supposed to have seen it and talked to them; that's my understanding. And they should have seen the same thing that everybody saw. The whole thing has got to be reviewed. Especially if they go back and look at it and screw it up, then we have to be able to protest it or something. Something's amiss here."

I'm a proponent of replay, but as long as humans are involved in the game, there will be mistakes. Replay can help minimize them, but not eliminate them.
For more baseball news, rumors and analysis, follow @cbssportsmlb on Twitter or subscribe to the RSS feed.