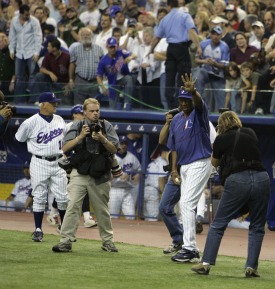 By C. Trent Rosecrans
The former French-language broadcaster for the Montreal Expos said he's been approached by a business group trying to bring baseball back to Montreal. That news comes off the heels of a report by the Conference Board of Canada that said Montreal could still support Major League Baseball.
The Expos moved to Washington D.C. after the 2004 season, but it certainly wouldn't be the first time a market lost a team and then got another. The Expos' move to D.C. was the third incarnation of MLB in the nation's capital. Kansas City, Seattle and Milwaukee all got second chances at MLB, and then there's the Mets who debuted after the Dodgers and Giants went west.
One huge hurdle would likely be a new ballpark, something the Expos couldn't get.
Still, Rodger Brulotte said there are business groups that have approached him and he's starting to take them seriously, even if he wouldn't name specific names.
"Before doing anything, I told the group to get their business plan together," Brulotte told the Montreal Gazette. "It has to include plans for a stadium, for radio and television rights, for everything, as though they already have the franchise."
It's unlikely baseball would expand anytime soon -- earlier this month in Phoenix commissioner Bud Selig said it's not in the plans -- but the Oakland A's are the team that would be most likely to move. The chances of that, though, are slim. Even with a stronger Canadian dollar, a return to Montreal seems even more unlikely -- much to the chagrin of traveling beat writers across the United States who fondly remember trips to Montreal, if not Olympic Stadium.
Author Jonah Keri, a Montreal native who is working on a book about the Expos, called the report a "non-story" and said there is a "zero percent" chance of baseball ever returning to Montreal. Unfortunately, he's probably correct.
For more baseball news, rumors and analysis, follow @cbssportsmlb on Twitter or subscribe to the RSS feed.