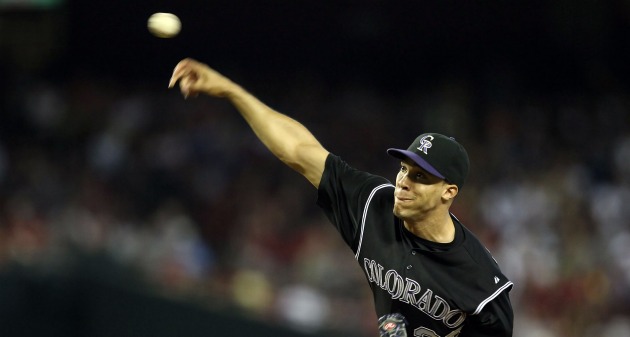 By Evan Brunell
Could
Rockies
ace
Ubaldo Jimenez
really be on the move? Joel Sherman of the
New York Post
has an interesting revelation, that being that Jimenez was out of shape in the spring, which Colorado is upset about. On Jimenez's side, he's upset that
Carlos Gonzalez
and
Troy Tulowitzki
got massive contracts and has "shut off" pitching coach Bob Apodaca. Funny, because Apodaca said the other day that he had the most open relationship of any pitcher with Jimenez.
Troy Renck of the
Denver Post
couldn't stand those statements though, making a
lengthy statement on Twitter
about these accusations.
I don't understand the continued characterization of Jimenez nationally as a malcontent. You'd think he was Terrell Owens. It's beyond unfair. Perception isn't reality when it comes to Jimenez. If people really knew him they would realize how wrong they are about these statements. Jimenez is not mad at Tulo-CarGo.. .He signed his own contract at family's insistence. ...He and Apodaca are not on the outs. I am not questiong other people's sources.. I am just saying I have known Jimenez for five years.He's the hardest working pitcher they've ever had. He's been a role model in Latin America. A mentor to young players. He admitted he made a mistake going to Europe in January. And he should have spoken up about hip flexor in spring training. If Rox trade him. I get it. But please know it's not because he's a bad guy or teammate. There are no questions about his character. Zero.
Renck could be correct for all we know, but all due respect to the reporter -- who has been with the Rockies virtually day in and day out for years and certainly has a far better pulse of the team than Sherman -- it seems like his main argument is "I know Jimenez, and it just can't be true!" Jimenez's character appears above reproach -- not just based on Renck's comments, but over the past few years, but that doesn't mean Jimenez is not upset about the big deals or that he has decreased his working relationship with Apodaca.
The
Tigers
are making another run at starting pitcher Ubaldo Jimenez of the Rockies as
CBSSports.com's Danny Knobler
wrote, but
Colorado wants
Jacob Turner or
Rick Porcello
, which is a tall task for Detroit to meet in any deal for Jimenez. Also, the
Red Sox
have entered the race "aggressively," as
SI.com's Jon Heyman
reports. Also in the hunt are the
Indians
,
Reds
and Jays. And yeah, the
Yankees
are in the hunt too, but the
the Post's Sherman
hears that the Yankees value Jimenez as a No. 2, not an ace, which is affecting trade talks.
All told, it's clear that the possibility of a Jimenez deal is better than originally thought.
There is a live trade deadline chat Sunday on CBSSports.com. Tune in at 2 p.m. ET!
For more baseball news, rumors and analysis, follow @cbssportsmlb on Twitter or subscribe to the RSS feed.