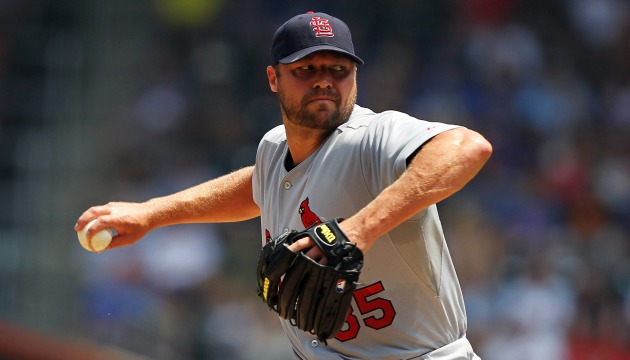 By Evan Brunell

As we hurtle toward the trade deadline on Sunday, it can be instructive to take a look back to the previous trade deadline. Looking at just the 30th and 31st, we see 13 trades were completed, with 10 on the day of reckoning. It's possible there could be a similar amount of deals this time around, but keep in mind that many teams are still in the postseason hunt, so that does limit the number of sellers and buyers.
Last season's deadline lacked one true blockbuster player, thanks to
Cliff Lee
being traded way back on July 9. That could change this year, with the increasing likelihood that both
Hunter Pence
and
Ubaldo Jimenez
will be traded, but last season still provides a good barometer of what to expect.
Many always think about the biggest names on the free agent market when the trade deadline rolls around, but players like
Austin Kearns
,
Javier Lopez
,
Will Ohman
and others were also on the move. It's not just big names teams deal for, and you'll see plenty of these small deals happen, even if they end up being insignificant in the long run.
Last year's deals can be broken up into three groups of similar size. Obviously, every team wants to be in the "paying dividends" category, but there are some that just plain "worked out," plus others that were irrelevant, either now or as early as the second the trade took place.
PAYING DIVIDENDS

There's a bit of a mix of trades in here. We've got those that instantly bore fruit for the buyer, with Jake Westbrook helping to solidify what was a flagging rotation at the time. Interestingly enough, Edwin Jackson was just acquired by St. Louis to (wait for it...) solidify a flagging rotation -- and here he is, represented in this list from a year ago when Chicago's Kenny Williams irrationally sent Hudson and Holmberg packing for Jackson, whom he hoped to flip for
Adam Dunn
before Washington walked away. (And that deal, by the way, has worked out just splendidly for Arizona.)
Another mid-rotation starter was dealt in the Cubs deal, but Chicago walked away the losers. They thought they were getting a possible starting second baseman in DeWitt, but instead he's been buried on the bench. (The jury is still out on Smit and Wallach, but don't hold your breath; DeWitt was the main piece) The real winner has turned out to be L.A. with Ted Lilly, who pitched well down the stretch then re-upped with the team. He's struggling this year, but is still a solid starter.
You may think it odd the Royals/Braves trade is on this list, especially since Ankiel and Farnsworth are gone from Atlanta and two of three players heading back to Kansas City were no one of note, but Tim Collins is certainly of note. The fireballing lefty has been fantastic for the Royals in his rookie season, posting up a 3.49 ERA in 49 innings. If he firms up his control, he could become an elite setup man. Heck, even if not, this trade has already paid off.
Another team that considered itself buyers but ended up shooting itself in the foot was the Dodgers, who sent away James McDonald for Octavio Dotel, a pitcher that was later moved to the
Rockies
, signed with the
Blue Jays
and was dealt again to the
Cardinals
along with Edwin Jackson. McDonald has been a dependable middle of the rotation starter, something that was already the case when he was traded. This deal was flat out dumb, but the
Pirates
are certainly happy.
The last trade was a swap between two contenders hoping for fresh starts. Texas wanted its haul to help restock the farm system to deliver dividends down the road while Boston was hoping to strike gold with Saltalamacchia. After getting the year off to a bad start, Salty is hitting .287/.359/.544 since May 15.
Sometimes, it's those trades taking fliers on players or sellers taking advantage of buyers to come out ahead just a year later.
WORKED OUT

Yankees acquired 1B Lance Berkman and cash considerations from Houston for RHP Mark Melancon and INF Jimmy Paredes.
Yankees acquired RHP Kerry Wood and cash from Cleveland for a player to be named or cash.
Pirates acquired RHP Joseph Martinez and OF John Bowker from San Francisco for LHP Javier Lopez.
These trades here all essentially worked out, but not for typical reasons you would expect.
Mark Melancon was the true prize in the Berkman trade, and has established himself as the closer in Houston. Of course, he won't get many save chances, but has racked up 10 in 49 1/3 innings, posting a 3.10 ERA while Berkman was just a passing wind, but now the Yankees get to claim that yet another 90-00s star wore pinstripes if only for a second, a la
Ivan Rodriguez
. Ditto the Kerry Wood deal, but Wood was actually lights out down the stretch and was a major boon to New York. This is one deal that doesn't matter anymore, but was huge for the final months of 2010.
Javier Lopez, of course, walked away with a ring in San Francisco and developed into a devastating weapon in the playoffs, giving up nothing of consequence.
IRRELEVANT
Indians traded OF Austin Kearns to the New York Yankees in exchange for a player to be named or cash.
Orioles traded LHP Will Ohman to Florida for RHP Rick VandenHurk.
Diamondbacks acquired OF Ryan Church, INF Bobby Crosby and RHP D.J. Carrasco from Pittsburgh for C Chris Snyder, INF Pedro Ciriaco and cash considerations.
Rays acquired RHP Chad Qualls from Arizona for a player to be named.
Tigers traded OF Wilkin Ramirez to Atlanta for a player to be named or cash considerations.
Braves traded OF Mitch Jones to the Pittsburgh Pirates for cash.
These deals are irrelevant, so we won't write much about them. But note that just as many deals paying dividends were made as irrelevant deals. Some of these, like Qualls or Snyder, were flyers that just didn't work out. It happens, but you can't blame the teams for trying. Most of these, though, were minor deals that didn't affect much of anything.
So what have we learned? The takeaways should be this: The one player that you may see in a trade deadline and not register at all may end up walking away the best player in the deal, and it may not take years for that to happen. And that for all the hubbub around big names being traded, most of the deals that go down are of the garden variety. A small deal can win a World Series (ask the
Giants
) just as much as a blockbuster.
For more baseball news, rumors and analysis, follow @cbssportsmlb on Twitter or subscribe to the RSS feed.