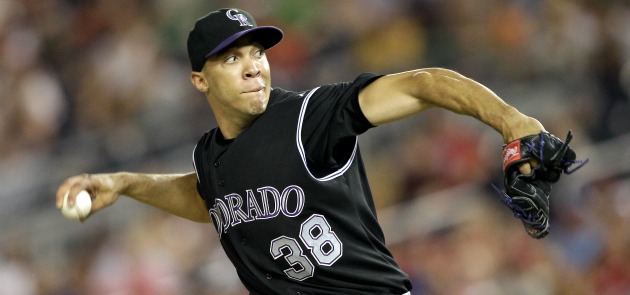 By Evan Brunell
Now that the trade deadline is over and the dust has settled, who are the winners and losers of the trade deadline?
There were plenty of big names dealt over the past week, including
Colby Rasmus
,
Ubaldo Jimenez
and
Hunter Pence
. Other players also moved that should impact teams for the next several years, and there were also plenty of minor deals to shore up holes. Over the coming months and years, the deals consummated today will be analyzed to death. We'll kick things off the same day with this uncompromising, unscathing look at your trade deadline winners and losers.
WINNERS

1. ACE IN THE HOLE



In today's trade deadline chat, a commenter who appeared to be an
Indians
fan was rather upset with the deal to acquire Ubaldo Jimenez from the
Rockies
, pointing to Jimenez's decreased production and velocity as to why the deal was a failure from the start. While Jimenez's fastball velocity drop is concerning (96.1 mph average last year, 93.4 mph this season), his peripherals line up to what he produced last season. Jimenez may not be an Ace in the
Roy Halladay
mold, but at the very least, he's an excellent No. 2 who would serve as an ace on oh, 20 teams?
And unlike most top pitchers traded, Jimenez is under team control through 2013 and is just 27. He gives the fanbase a jolt of optimism as Cleveland attempts to win the division, and then most importantly, gives the Indians the premium pitcher necessary to compete the next two years, when Cleveland's core solidifies around a young, talented infield and an upcoming rotation. All they gave up were four minor-league players (three of them pitchers), none of which are guaranteed to turn into anything resembling Jimenez. This deal could still yet work out for Colorado, but it's already working out for Cleveland.
And of course, the Indians also added outfielder
Kosuke Fukudome
, who will help Cleveland withstand the losses of
Shin-Soo Choo
and
Grady Sizemore
, then become part of a nice stable of outfielders when these players return. They also were hoping to get outfielder
Ryan Ludwick
, but lost him to the
Pirates
. That may have been for the best anyways, as Cleveland was reportedly balking at San Diego's price for who wouldn't have significantly upgraded the outfield corps.
2. BOURN TO WIN

Atlanta made out like bandits in the deal for
Michael Bourn
, acquiring a leadoff hitter who plays a premium defensive position... and not surrendering any top prospects. The
Braves
gave up a no-hit center fielder in
Jordan Schafer
plus three minor-league pitchers in Brett Oberholtzer, Paul Clemens and Juan Abreu. There are some intriguing aspects to these pitchers, but none are can't miss and only Oberholtzer appeared on Baseball America's top 10 Braves prospects list prior to the season. That hardly seems like fair value for Bourn.
The Braves, meanwhile, gain a 28-year-old who is the sixth-best center fielder in 2011,
according to Fangraphs
' Wins Above Replacement metric. With dazzling defense, scorching legs and a capable bat. Hitting .303/.363/.403, Bourn has added 39 stolen bases into the conversation to become a dynamic leadoff hitter that will cause problems right off the bat to start the game. Atlanta controls his rights through 2012 as well, so he's not a short-term rental. Again, remember: they didn't give up any of their top prospects for someone who, at least this season, has performed as a game-changer.
3. BULLPEN JACKPOT

Texas gave up a pretty penny, there can be no doubt on that. The
Rangers
didn't make this list because they hoodwinked another team. Baltimore has to be pleased with the
Chris Davis
-
Tommy Hunter
haul for
Koji Uehara
, and the two minor-league pitchers sent to San Diego for
Mike Adams
will be heard from again. But Texas belongs on this list simply because of how impressively they upgraded their bullpen in the blink of an eye.
No longer are the Rangers handicapped by a shaky bullpen with a volatile closer. While the closer remains, the bridge to
Neftali Feliz
just got a lot more stable, with Adams and Uehara able to get the game from the starter to Feliz without breaking a sweat. Even better, the presence of Adams allows the Rangers to move Feliz out of the closer's role in October if need be, as well as grease the skids for a conversion to starting pitcher next season with Adams in the fold to close.
LOSERS1. QUANTITY OVER QUALITY

In the morning, Los Angeles' deal sending
Rafael Furcal
-- who was injured most of the year and not producing when he was in the lineup -- to St. Louis was finalized. They received a 24-year-old outfielder crushing Double-A but without much promise, and $1.4 million in saved money. Whatever, right? The
Dodgers
aren't listed here because of that deal.
There was only one trade made the entire week in which a team was instantly ridiculed for its move. The
Cardinals
were headed for the loser's seat before the waning minutes of the deadline, but Los Angeles took it away with a staggering display of incompetence. To help Boston facilitate acquiring
Erik Bedard
, the Dodgers agreed to trade away Trayvon Robinson, one of the few bright spots in the high minors that could actually hit. Robinson, along with Jerry Sands, could have made a pretty decent first base-left field combo over the next few years. Instead, Robinson will take his .293/.375/.563 line with 26 home runs in Triple-A to Seattle while the Dodgers come away with three organizational pieces.
And really, that's all they are. You've got catcher Tim Federowicz, who has a strong defensive reputation but whose hitting will be challenged enough that he best profiles as a long-term backup catcher. Those aren't tough to find. Add in starter Stephen Fife, who has pitched to Federowicz all season for Double-A Portland, who profiles as a back of the rotation starter or solid middle reliever. Lastly, Juan Rodriguez, a reliever who throws smoke but is 22 years old and in Class A. Splendid. Oh, and all three will be Rule 5 eligible after the year, meaning they need to be added to the 40-man roster or risk being lost in the draft -- and all three would be strong candidates to be taken. The Dodgers, in one fell swoop, traded away one of their few high-ceiling prospects for three organizational players who will all require 40-man spots, which are incredibly valuable.
2. STANDING PAT

You will hear much more on Monday about the
Cubs
' massive failure at the trade deadline thanks to GM Jim Hendry, who really should be fired on the spot. But while we're here, we might as well recap the Cubs' situation. That situation is a 42-65 record, which is just a few losses away from a 100-loss pace. The Cubs are loaded with unseemly contracts, ranging from the obscene (
Alfonso Soriano
) to the bad (
Carlos Zambrano
) to the unnecessary (
John Grabow
).
And yet, not only was Hendry content not to move any pieces but he was fine encouraging
Aramis Ramirez
to stay in town. He was fine ruling out the trading of a backup platoon infielder in
Jeff Baker
. (Read that last sentence again.) The only player Hendry parted with was Fukudome, and he never had fans in the front office and was a lock to leave after the season, anyways.
Instead of trying to set the Cubs up for future success, Hendry seemed paralyzed by which direction to go and while choosing to become buyers would have been ludicrous, it would have been a more palatable direction than just staying pat. Of course, the Cubs aren't flush with a deep farm system, especially after trading for
Matt Garza
. So Hendry's stuck pretending to be a contender for what, at least from this side of things, seems to be nothing more than a desperate attempt to save his job by pretending his team is close to contention and does not need a fire sale -- a fire sale that would have been entirely Hendry's fault.
3. MASTER PLAN FOILED

Let's think back to before the season started. Baltimore was coming off a 66-96 season, but optimism abounded thanks to Buck Showalter's 34-23 record to cap off the year. Brian Matusz was emerging into a top young pitcher and
Zach Britton
wasn't too far behind. The offense needed some help, but was young enough and projectable enough to have some optimism moving forward. In an attempt to make baseball relevant again in Baltimore and give the players some leadership, as well as something to strive for, the O's went veteran heavy in their free-agent signings.
Understandable, even if Baltimore knew it wasn't going to make any type of postseason run. It could still jack up energy in the city, then deal these players at the trade deadline for solid prospects or young players that might help the O's take the next step forward. Alas,
Justin Duchscherer
has been hurt all season.
Vladimir Guerrero
has taken his $8 million and crumbled before our very eyes, then hit the disabled list and destroyed his trade value. Only
Derrek Lee
's recent hot streak saved his trade value, and even he was only able to fetch a 23-year-old currently doing pretty decent ... in high-Class A. Hardly the return to make Baltimore relevant. The
Orioles
took a risk in the offseason, and even if you don't blame them for Lee and Guerrero's failures at the plate, they are losers because they came away from these moves with a net negative. All these millions of dollars and playing time allocations wasted, rather than giving
Felix Pie
and
Nolan Reimold
an entire year to establish themselves.
For more baseball news, rumors and analysis, follow @cbssportsmlb on Twitter or subscribe to the RSS feed.